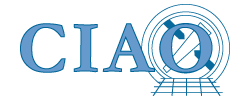 from "s'sciavo", "I am your servant" in Venetian dialect*
---
---
These are the webpages relative to the CIAO 3.4 release (18 December 2006). The CXC no longer supports CIAO 3.4, and these webpages are no longer updated.
CIAO 3.4 users should check the CALDB 3 website for compatible calibration updates.
---
The newest version of the Chandra Interactive Analysis of Observations software, is CIAO 4.1, released on 15 December 2008. Read the release notes for detailed information. This release requires that CALDB 4.1.0 be installed for the software to work correctly.
---
The following sections are designed to get users pointed in the right direction. There are many pieces of documentation not listed here, which may be accessed from the left-hand navigation bar.
I've never used CIAO before. Where should I begin?

Has a new version of CIAO or CALDB been released?
What has changed in the site recently?

CIAO isn't working correctly - I need help!

I am an expert CIAO user. Where can I find more detailed information?
---
Citing CIAO in a Publication
If you are writing a paper and would like to cite the CIAO software, we recommend the following:
CIAO: Chandra's data analysis system
Fruscione et al. 2006, SPIE Proc. 6270, 62701V, D.R. Silvia & R.E. Doxsey, eds.
The specific version of CIAO and CALDB used for the analysis should be mentioned. Further guidelines are available from the Acknowledgment of Use of Chandra Resources.
---
About this Website
The paper "The CIAO Website Unveiled" (ADASS XIV, 2004) describes the infrastructure of this website.