The ACIS "Blank-Sky" Background Files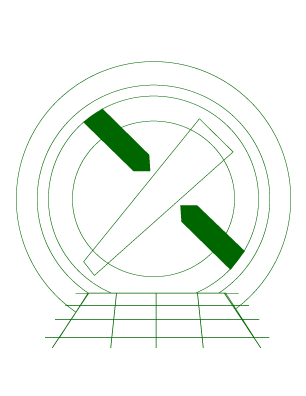 CIAO 4.2 Science Threads
[S-Lang Syntax]
---
Last Update: 28 Sep 2010 - updated for CALDB 4.3.1: calibration update - updated files for ACIS-8
Synopsis:
The ACIS calibration team has completed a detailed study of the ACIS background. Part of this study has produced a set of "blank-sky" datasets which can be used, for instance, for analyses where the object of interest fills the entire chip.
Purpose:
To create ACIS background spectra tailored to a specific observation for spectral fitting or images for spatial analyses.
Read this thread if:
you are analyzing an ACIS imaging observation and the source is so large that you can not estimate the background from your dataset.
Related Links:
---
---
---


Parameters for /home/username/cxcds_param/dmextract.par


#--------------------------------------------------------------------
#
# DMEXTRACT -- extract columns or counts from an event list
#
#--------------------------------------------------------------------
        infile = evt2_c7_bg.fits[bin time=84245789.155:84253741.155:259.28] Input event file 
       outfile = evt2_c7_bg.lc    Enter output file name
          (bkg = )                Background region file or fixed background (counts/pixel/s) subtraction
        (error = gaussian)        Method for error determination(poisson|gaussian|<variance file>)
     (bkgerror = gaussian)        Method for background error determination(poisson|gaussian|<variance file>)
      (bkgnorm = 1.0)             Background normalization
          (exp = )                Exposure map image file
       (bkgexp = )                Background exposure map image file
      (sys_err = 0)               Fixed systematic error value for SYS_ERR keyword
          (opt = ltc1)            Output file type: pha1 
     (defaults = ${ASCDS_CALIB}/cxo.mdb -> /soft/ciao/data/cxo.mdb) Instrument defaults file
         (wmap = )                WMAP filter/binning (e.g. det=8 or default)
      (clobber = no)              OK to overwrite existing output file(s)?
      (verbose = 0)               Verbosity level
         (mode = ql)              
    
---


Parameters for /home/username/cxcds_param/dmgti.par


        infile = evt2_c7_bg.lc    Input MTL file
       outfile = evt2_c7_bg.gti   Output GTI file
     userlimit = (count_rate>0.418866 && count_rate<0.603168) User defined limit string
      (mtlfile = none)            Optional output smoothed/filtered MTL file
     (lkupfile = none)            Lookup table defining which MTL columns to check against (NONE|none|<filename>)
       (smooth = yes)             Smooth the input MTL data?
      (clobber = yes)             Clobber output file if it exists?
      (verbose = 0)               Debug level
         (mode = h)               
    
---


Parameters for /home/username/cxcds_param/reproject_events.par


        infile = bgevt2_c7.fits Input dataset/block specification
       outfile = bgevt2_c7_reproj.fits Output dataset/block specification
         match = evt2_c7_clean.fits Match file
       (aspect = pcadf084244404N001_asol1.fits) Aspect file
       (random = 0)               random seed (0 use time, -1 no randomize)
      (geompar = geom)            Parameter file for Pixlib Geometry files
      (verbose = 0)               Debug Level(0-5)
      (clobber = no)              Clobber existing file
         (mode = ql)              
    
---
| | |
| --- | --- |
| 05 Jan 2005 | updated for CIAO 3.2: updates for CALDB 3.0.0, added Download the Background Files section |
| 12 Jul 2005 | acis_bkgrnd_lookup updated to version 1.11. A bug has been fixed that prevented the script from storing the name of the selected ACIS background file, or files, in its parameter file. |
| 20 Dec 2005 | updated for CIAO 3.3: default value of dmextract error and bkgerror parameters is "gaussian" |
| 16 Feb 2006 | added using the background files with specextract caveat |
| 01 Dec 2006 | updated for CIAO 3.4: serial CTI released in CALDB 3.3.0 is not included in the CALDB background files; dmgti uses the value of the TIMEPIXR header keyword to adjust start and stop times (users may see a small shift in the time filter when compared to CIAO 3.3 because of this); kernel parameter removed from dmgti; CIAO version in errors and warnings; ChIPS version |
| 01 May 2007 | updated for CALDB 3.4.0: new ACIS background files; majority of thread rewritten to reflect the new background files |
| 12 Jul 2007 | acis_process_events command needs apply_cti=yes, to retain the CTI correction on the input file |
| 14 Sep 2007 | updated for CALDB 3.4.1: new ACIS background files |
| 25 Jan 2008 | updated for CIAO 4.0: acis_bkgrnd_lookup v1.12; lc_clean.sl v1.10 (plotting routines have been removed from the script until the ChIPS syntax is updated); slsh version 0.8.2-0/S-Lang version 2.1.3; screen output updated for reprocessed data; lightcurve extract uses GTI range, not header time range |
| 06 May 2008 | changed energy filter to 0.5 to 7 keV (500:7000) |
| 24 Jun 2008 | updated image display to place figures inline with text |
| 15 Dec 2008 | updated for CIAO 4.1: lc_clean.sl has been replaced by lightcurves.sl; added a Python version of the script; the method for specifying options to the command has changed; plotting capabilities have been restored; the location of the ACIS background files has changed |
| 14 Jan 2009 | acis_bkgrnd_lookup updated to version "CIAO 4.1 - 1.1" (additional functionality which does not affect how the script is used in this thread); updated error message when no matching file found |
| 06 May 2009 | check the version of the CIAO scripts package instead of the individual script |
| 21 May 2009 | added the Working with VFAINT data caveat |
| 07 Jul 2009 | updated for CALDB 4.1.3: correction to lookup of three background files. |
| 20 Aug 2009 | expanded the information on how the aspect solution is applied to the background file (Reproject the background data section) |
| 27 Jan 2010 | updated for CIAO 4.2: update the PNT header keywords in the background file header |
| 05 Mar 2010 | added information on using deflare script; updated script tarfile version to 05 Mar 2010 |
| 05 Apr 2010 | updated for CALDB 4.2.1: calibration update - new ACIS blank-sky background files released |
| 19 Apr 2010 | updated for CALDB 4.2.2: calibration update - CALDB 4.2.1 contained one incorrect background file |
| 28 Sep 2010 | updated for CALDB 4.3.1: calibration update - updated files for ACIS-8 |
---