HRC-S Exposure Map and Fluxed Image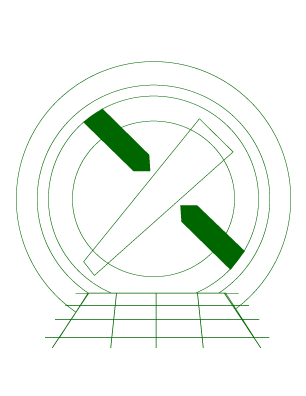 CIAO 4.2 Science Threads
---
Last Update: 5 Feb 2010 - updated for CIAO 4.2: minor changes to screen output
Synopsis:
mkexpmap generates an exposure map which may be used to convert a counts image of a source to an image in flux units. The computed exposure map is essentially an image of the effective area at each sky position, accounting for the effects of dither motion which are especially important near the edges of the detector.
The exposure map is computed from the aspect histogram file - which contains information on the aspect motion during the observation - and an instrument map - which is essentially the product of the detector quantum efficiency and the mirror effective area projected onto the detector surface.
Purpose:
To build an exposure map for an HRC-S observation, create a fluxed image, and find an approximation for the source flux.
Read this thread if:
you are working with an HRC-S observation and would like to create an exposure map for it.
Related Links:
---
---
---


Parameters for /home/username/cxcds_param/asphist.par


        infile = @pcad_asol1.lis  Aspect Solution List Files
       outfile = asphist_hrcs.fits Aspect Histogram Output File
       evtfile = hrcf00990N004_evt2.fits Event List Files
       dtffile = hrcf00990_000N003_dtf1.fits Live Time Correction List Files for HRC
      (geompar = geom)            Parameter file for Pixlib Geometry files
       (res_xy = 0.5)             Aspect Resolution x and y in arcsec
     (res_roll = 600.)            Aspect Resolution roll in arcsec
      (max_bin = 10000.)          Maximal number of bins
      (clobber = no)              Clobber output
      (verbose = 0)               Verbose
         (mode = ql)              
    
---


Parameters for /home/username/cxcds_param/reproject_image.par


        infile = @expmap.lis      Input image file name
     matchfile = 990_img.fits     Reference image
       outfile = expmap.fits_reproimg Output file name
    (resolution = 1)               Number of point per side to evalute
       (method = average)         Average value
    (coord_sys = world)           Coordinate system to match images in
    (lookupTab = ${ASCDS_CALIB}/dmmerge_header_lookup.txt -> /soft/ciao/data/dmmerge_header_lookup.txt) lookup table
      (clobber = no)              Clobber existing files
      (verbose = 0)               Tool verbosity
         (mode = ql)
    
---


Parameters for /home/username/cxcds_param/dmimgthresh.par


        infile = 990_img.fits     Input dataset/block specification
       outfile = 990_img_clean.fits Output dataset/block specification
      (expfile = expmap_hrcs.fits) Exposure map file
          (cut = 1.5%)            Threshold value
        (value = 0)               Replacement value
      (verbose = 0)               Debug Level(0-5)
      (clobber = no)              Clobber existing file
         (mode = ql)
    
---


Parameters for /home/username/cxcds_param/dmimgcalc.par


# parameter file for dmimgcalc
        infile = 990_img.fits     Input file #1
       infile2 = expmap_hrcs.fits Input file #2
       outfile = 990_img_norm.fits output file 
     operation = div              arithmetic operation
       (weight = 1)               weight for first image
      (weight2 = 1)               weight for second image
    (lookupTab = ${ASCDS_CALIB}/dmmerge_header_lookup.txt -> /soft/ciao/data/dmmerge_header_lookup.txt) lookup table
      (clobber = no)              delete old output
      (verbose = 0)               output verbosity
         (mode = ql)              
    
---
---