Using psextract to Extract ACIS Spectra and Response Files for Pointlike Sources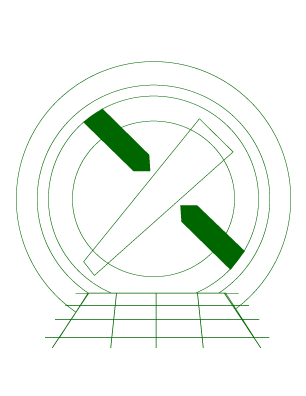 CIAO 4.2 Science Threads
---
Last Update: 12 Jan 2010 - updated for CIAO 4.2: ObsID 459 file versions and corresponding minor changes to screen output; calibration update - the ACIS QE contamination model has been upgraded to vN0005.
Synopsis:
The psextract script allows you to compute different RMFs and ARFs for the source and background spectra, if needed. The output files are the source and (ungrouped) background spectra and the source RMF and ARF. If the source and background extraction regions have different average detector coordinates or the source and background event files are different, then the background RMF and ARF and a "linearly grouped" (by a factor of 20) background spectrum are also created.
Purpose:
To generate source and background PI (PHA) spectra of a pointlike ACIS source and build the proper RMFs and ARFs.
Read this thread if:
you are working with any ACIS observation, whether imaging or grating data.
If the source is at the very edge of a CCD, subarray or window, do not use this thread. Instead, run the Step-by-Step Guide to Creating ACIS Spectra thread which includes the use of the mask file when making an ARF.
CALDB v4.2.0 (15 Dec 2009):

The ACIS QE contamination model has been upgraded to vN0005. This version of the file contains separate components for the correction on ACIS-S and ACIS-I. The new calibration file is used by default when creating ARFs and instrument maps in CIAO 4.2.

The changes in the vN0005 file will primarily affect low-energy absorption components between C-K edge (0.283 keV) and 1.2 keV. In general, hard spectra will not be affected much by the calibration change.

Users should read the ACIS QE Contamination Model vN0005 section of the CIAO 4.2 release notes for information on how this change will affect the response file.
Related Links:
---
---
---
The thread is now complete. The source and the ungrouped background spectra are named 3c273.pi and 3c273_bg.pi; the grouped background spectrum is named 3c273_bg_grp.pi. The source and background (common) RMF is named 3c273.rmf, while source and background ARFs are named 3c273.arf and 3c273_bg.arf.
---


Parameters for /home/username/cxcds_param/psextract.par


        events = acisf00459N004_evt2.fits[sky=region(3c273.reg)] Source events specification
      bgevents = acisf00459N004_evt2.fits[sky=region(3c273_bg.reg)] Background events specification
          root = 3c273            Root name for output files
          asol = @pcad_asol1.lis  Source aspect solution file
        bgasol =                  Background aspect solution file
       pbkfile = acisf063875928N003_pbk0.fits NONE, or name of the parameter block file
       (dafile = CALDB)           CALDB, NONE, or name of ACIS dead-area calibration file
        (ptype = pi)              pi or pha
        (gtype = NUM_CTS)         Spectrum grouping type (same as grouptype in dmgroup)
        (gspec = 15)              Spectrum grouping specs (NONE,1:1024:10,etc)
      (clobber = no)              OK to overwrite existing output file?
      (verbose = 2)               Debug Level(0-5)
         (mode = ql)              
    
---
| | |
| --- | --- |
| 14 Dec 2004 | updated for CIAO 3.2: created Using Consistent Calibration and Downloading the Scripts sections |
| 23 Jun 2005 | CIAO 3.2.2 patch: new calibration for mkacisrmf is available; see the Using Consistent Calibration: mkrmf vs mkacisrmf section |
| 15 Dec 2005 | updated for CIAO 3.3: the psextract script has been updated to version 3.3 for the new asphist tool syntax; note about specextract in the Overview; default value of dmextract error and bkgerror parameters is "gaussian" (this tool is called by psextract) |
| 01 Feb 2006 | added link to specextract thread |
| 31 Mar 2006 | specextract use update added to Overview; title changed from "Extract ACIS Spectra for Pointlike Sources and Make RMFs and ARFs" to "Using psextract to Extract ACIS Spectra and Response Files for Pointlike Sources" |
| 14 Jun 2006 | corrected link in "Calibration Updates"; clarified information on GRADED mode data |
| 25 Jul 2006 | added Creating an RMF with mkacisrmf section, moved "Using Consistent Calibration: mkrmf vs mkacisrmf" section |
| 01 Dec 2006 | updated for CIAO 3.4: psextract version 3.4 (mkarf obsfile parameter is set to event file instead of asphist file); acis_fef_lookup version 1.19 (changes for CTI lookup) |
| 02 Feb 2007 | updated for CALDB 3.3.0.1 patch |
| 26 Feb 2007 | psextract v4.0 and acis_fef_lookup v1.20: Dead area correction parameters added to the psextract.par file: pbkfile and dafile (added ACIS dead area correction section). Script prints a warning if RMF should be remade with mkacisrmf. Several other minor code changes that don't affect the output files (see the Script History page for details). |
| 22 Jan 2008 | updated for CIAO 4.0: psextract v4.0.1 (parameter updates for applying ACIS dead area correction, which is turned on by default); acis_fef_lookup v1.21 (updated to to run under S-Lang v2; functionality is unchanged); available links updated to point to Sherpa Beta website; removed old calibration updates |
| 31 Mar 2008 | updated for CALDB 3.4.3: use mkacisrmf for -110 BI chips if TGAIN calibration has been applied |
| 30 May 2008 | psextract v4.0.3 (Unix head and tail commands replaced by pget and dmkeypar); thread images are inline |
| 04 Aug 2008 | the source and background region(s) must be confined to a single chip |
| 02 Feb 2009 | updated for CIAO 4.1: image converted to inline; acis_fef_lookup vCIAO 4.1 - 1.0 (rewritten to be compatible with CALDB 4.1); "ARDLIB warning ... Assuming the first "interesting" extension." no longer printed; updated Sherpa thread link to 4.1 version; input data must have a CTI_APP keyword |
| 05 Mar 2009 | added information about matching the ARF and RMF grids to the Creating an RMF with mkacisrmf section |
| 06 May 2009 | check the version of the CIAO scripts package instead of the individual script |
| 21 May 2009 | added explanation of why ungrouped background filename is used in the BACKFILE header keyword of the grouped source spectrum |
| 12 Jan 2010 | updated for CIAO 4.2: ObsID 459 file versions and corresponding minor changes to screen output; calibration update - the ACIS QE contamination model has been upgraded to vN0005. |
---