Create a PSF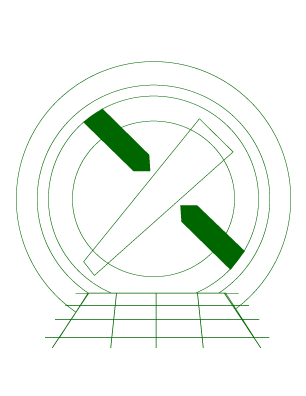 CIAO 4.2 Science Threads
[S-Lang Syntax]
---
Last Update: 8 Feb 2010 - updated for CIAO 4.2: ChIPS version; dmcoords asolfile parameter is automatic (not hidden)
Synopsis:
The Chandra Ray Tracer (ChaRT) gives the best available HRMA Point Spread Function (PSF) for a point source at any off-axis angle and for any energy or spectrum. The PSF libraries are used in this thread to create a PSF for a specific observation. A comparison of these methods is available from the ChaRT webpages.
Purpose:
To create an image of the PSF for a source, and normalize it to the source flux. The PSF changes with source position and photon energy, and is created by interpolation of a library of pre-launch calibration files (the PSF hypercube library).
Read this thread if:
you would like to create a PSF for an HRC or ACIS imaging observation.
Related Links:
---
---
---


Parameters for /home/username/cxcds_param/dmextract.par


#--------------------------------------------------------------------
#
# DMEXTRACT -- extract columns or counts from an event list
#
#--------------------------------------------------------------------
        infile = acis_1838_evt2.fits[sky=circle(4069.5,4250.5,20)][bin energy=300:8000:100] Input event file 
       outfile = energy_histogram.fits Enter output file name
          (bkg = )                Background region file or fixed background (counts/pixel/s) subtraction
        (error = gaussian)        Method for error determination(poisson|gaussian|<variance file>)
     (bkgerror = gaussian)        Method for background error determination(poisson|gaussian|<variance file>)
      (bkgnorm = 1.0)             Background normalization
          (exp = )                Exposure map image file
       (bkgexp = )                Background exposure map image file
      (sys_err = 0)               Fixed systematic error value for SYS_ERR keyword
          (opt = generic)         Output file type: pha1 
     (defaults = ${ASCDS_CALIB}/cxo.mdb -> /soft/ciao/data/cxo.mdb) Instrument defaults file
         (wmap = )                WMAP filter/binning (e.g. det=8 or default)
      (clobber = no)              OK to overwrite existing output file(s)?
      (verbose = 0)               Verbosity level
         (mode = ql)              


---


Parameters for /home/username/cxcds_param/dmstat.par


        infile = img_src_0.3-8keV.fits[sky=annulus(4069.5,4250.5,80,90)] Input file specification
   out_columns = EVENTS_IMAGE     Output Column Label
       out_min = 0                Output Minimum Value
   out_min_loc = 4069.5,4160.5    Output Minimum Location Value
       out_max = 3                Output Maximum Value
   out_max_loc = 4150.5,4232.5    Output Maxiumum Location Value
      out_mean = 0.063802083333   Output Mean Value
    out_median =                  Output Median Value
     out_sigma =                  Output Sigma Value
       out_sum = 343              Output Sum of Values
      out_good = 5376             Output Number Good Values
      out_null = 27385            Output Number Null Values
    out_cnvrgd =                  Converged?
 out_cntrd_log =                  Output Centroid Log Value
out_cntrd_phys =                  Output Centriod Phys Value
out_sigma_cntrd =                  Output Sigma Centriod Value
     (centroid = no)              Calculate centroid if image?
       (median = no)              Calculate median value?
        (sigma = no)              Calculate the population standard deviation?
         (clip = no)              Calculate stats using sigma clipping?
       (nsigma = 3)               Number of sigma to clip
      (maxiter = 20)              Maximum number of iterations
      (verbose = 1)               Verbosity level
         (mode = ql)              


---


Parameters for /home/username/cxcds_param/mkpsf.par


#
# MKPSF -- retrieve PSF from library for given (energy,x,y) position
#
###########################################################################
#
#       COORDINATE SYSTEM parameters
#
         coord = SKY              input coordinate system
#
#       PSF binning parameters
#
       binspax = INDEF            PSF binning in x direction
       binspay = INDEF            PSF binning in y direction
#
#       PSF size parameters
#
      sizeoutx = INDEF            PSF size in x direction
      sizeouty = INDEF            PSF size in y direction
#
#       input file parameters
#
        infile = img_src_0.3-8keV.fits input file
#
#       PSF position parameters
#
        energy = 3                energy in keV
             x = 4069.5           x
             y = 4250.5           y
#
#       PSF library file parameters
#

    psflibfile = /soft/ciao/CALDB/data/chandra/acis/2d_psf/aciss1998-11-052dpsf1N0002.fits PSF library file

#
#       output file parameters
#
       outfile = psf_3keV.fits    output file
    outpsffile =                  psflib data output basename ('.' to use output file)
#
#       pixlib geometry parameter file
#
      (geompar = geom)            Parameter file for Pixlib Geometry files
#
#       PSF roll parameter
#
       (rotpts = 9)               number of pixel points in x or y direction for rotation
#
# debug print control
#
      (verbose = 0)               verbose mode
#
# system variables
#
      (clobber = no)              overwrite existing output file?
         (mode = ql)              


---


Parameters for /home/username/cxcds_param/dmimgcalc.par


# parameter file for dmimgcalc
        infile = psf_3keV.fits    Input file #1
       infile2 = none             Input file #2
       outfile = psf_3keV_norm.fits output file
     operation = add              arithmetic operation
       (weight = 12011)           weight for first image
      (weight2 = 1)               weight for second image
    (lookupTab = ${ASCDS_CALIB}/dmmerge_header_lookup.txt -> /soft/ciao/data/dmmerge_header_lookup.txt) lookup table
      (clobber = no)              delete old output
      (verbose = 0)               output verbosity
         (mode = ql)



---
| | |
| --- | --- |
| 14 Dec 2004 | updated for CIAO 3.2: include dmcoords asolfile parameter |
| 12 Dec 2005 | updated for CIAO 3.3: default value of dmextract error and bkgerror parameters is "gaussian"; changes to dmstat parameter file |
| 01 Aug 2006 | corrected use of azimuth (phi) and elevation (also called the off-axis angle, theta) |
| 01 Dec 2006 | updated for CIAO 3.4: ChIPS version |
| 16 Jan 2008 | updated for CIAO 4.0: ChIPS plotting updated to CIAO 4.0 syntax; dmstat and dmlist are alternatives for finding the energy and count rate; filename and screen output updated for reprocessed data (version N002 event file) |
| 09 Feb 2009 | updated for CIAO 4.1: images are inline; added verbose parameter to dmstat output; calibration file paths updated for CALDB 4; Python and S-Lang syntax included for ChIPS commands |
| 08 Feb 2010 | updated for CIAO 4.2: ChIPS version; dmcoords asolfile parameter is automatic (not hidden) |
---