Applying Customized Background Regions to LETG/HRC-S Observations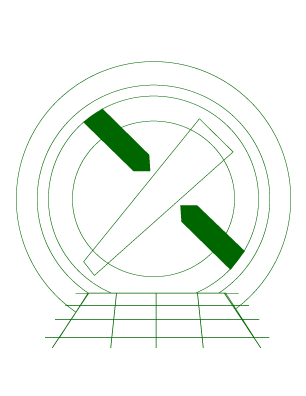 CIAO 4.2 Science Threads
---
Last Update: 19 Jul 2010 - the S-Lang syntax has been removed from this thread as it is not supported in CIAO 4.2 Sherpa v2.
Synopsis:
This thread demonstrates the use of tgextract2 to apply customized background regions to an LETG/HRC-S observation of a field with two, close, bright sources. With LETGS, it is important to include backgrounds in the analysis since the HRC-S instrumental background is significant.
Each source in ObsID 29 falls into one of the default background regions for the other. The sources themselves are far enough apart that their spectra can be extracted cleanly. Creating a custom region will avoid background contamination by either of the sources.
Read this thread if:
LETG/HRC-S observations where some detailed and interactive analysis is required, involving some scientific judgement by the analyst, to determine the background region to apply.
---
---
---


Parameters for /home/username/cxcds_param/tgextract2.par



Parameters for /Users/home/cxcds_param4/tgextract2.par

##
## create 1D spectrum(a) table file(s) from the L1.5 output event list
##
        infile = 29/primary/hrcf00029N005_evt2.fits Input event file (output event file from L1.5 processing)
       outfile = a_               Output pha file (for pha2, enter full file name or '.'; for pha1, enter rootname.)
#
# tg_srcid_list parameter explanation:
#  - "all, blank or none" processes all the sources id's found in the event list.
#  - a comma list is a comma separated string list of all the sources to process. 
#          eg.  "1,2,5,7"
#  - @file is a pointer to an ascii file which contains the id's to process. 
#    Limit one id per line. no comma list is allowed in @file.
#
 tg_srcid_list = 1                Source ID's to process: 'all', comma list, @file
  tg_part_list = header_value     Grating parts to process: HETG, HEG, MEG, LETG, header_value
#
# tg_order_list parameter explanation :
#  - "default, blank or none" is set to process the following :
#          for ACIS :  1, 2, 3, -1, -2, -3
#          for HRC :   -1, 1
#  - a comma list is a comma separated string list of the orders
#    the user wants to process.
#          eg.  "-5, -1, 1, 3"
#  - a range list sets the min and max of the orders to process.
#    all the orders in between, will be processed. 
#          eg.  "-1..5"  will process orders from -1 to +5th order
#    a range list can be mixed with comma separated list
#  - @file is a pointer to an ascii file which contains 
#    the orders to process. Limit one order per line.
#    a range list is allowed in @file, but no comma list.
#
 tg_order_list = default          Grating diffraction orders to process: 'default', comma list, range list, @file
          (opt = pha1)            Output file type: pha1 (single spectrum) or pha2 (multiple spectra)
#
# If wav_grid is set to a binning specification (other than "use_header"), then 
# the following grating-specific parameters 'wav_grid_*' will be ignored.
#
     (wav_grid = use_header)      grid specification (use_header| min:max:step| min:max:#bins|pre-defined standard grid)
 (wav_grid_heg = 1.0:21.48:0.0025) pre-defined standard HEG grid
 (wav_grid_meg = 1.0:41.96:0.0050) pre-defined standard MEG grid
 (wav_grid_leg = 1.0:205.80:0.0125) pre-defined standard LETG grid
(wav_grid_leg_acis = 1.0:103.4:0.0125) pre-defined standard LETG/ACIS grid
   (evt_filter = none)            Filter to apply to events for counts spectra
(ignore_source_id = yes)             match source id between regionFile and evtFile?
        (error = gaussian)        Method for error determination (gaussian|gehrels)
  (region_file = hrc_0029_reg.fits) Input region file ( NONE | none | <filename>)
      (geompar = geom)            Parameter file for Pixlib Geometry files
     (min_tg_d = default)         Minimum tg_d for source spectrum, in degrees
     (max_tg_d = default)         Maximum tg_d for source spectrum, in degrees
(extract_background = yes)             Extract the local background spectrum?
(min_upbkg_tg_d = default)         Minimum tg_d for upper background spectrum, in degrees
(max_upbkg_tg_d = default)         Maximum tg_d for upper background spectrum, in degrees
(min_downbkg_tg_d = default)         Minimum tg_d for down background spectrum, in degrees
(max_downbkg_tg_d = default)         Maximum tg_d for down background spectrum, in degrees
(backscale_method = events)          Use events and region, or region-only for backscale
(backscale_resolution = 64)              Amount in pixels to bin in wavelength to improve statistics in backscale
      (clobber = no)              overwrite any existing output file?
      (verbose = 0)               Verbosity level (0 = no display)
         (mode = ql)              



---
| | |
| --- | --- |
| 20 Apr 2009 | New for CIAO 4.1 |
| 01 Feb 2010 | reviewed for CIAO 4.2: no changes |
| 19 Jul 2010 | the S-Lang syntax has been removed from this thread as it is not supported in CIAO 4.2 Sherpa v2. |
---