---
Next:
The Science Instrument Module
Up:
The Systems of the AXAF Observatory
Previous:
The Spacecraft
---
The most important part of the X-ray telescope is the high resolution mirror assembly, which consists of four pairs of glancing-incidence X-ray mirrors (see AXAF Mirror Fabrication) with a focal length

m. The outer diameter of the largest mirrors is about 1.2 m. Detailed calibration of the mirrors will be performed before launch (see ``AXAF Calibration Plans'' in issue 1 of this Newsletter).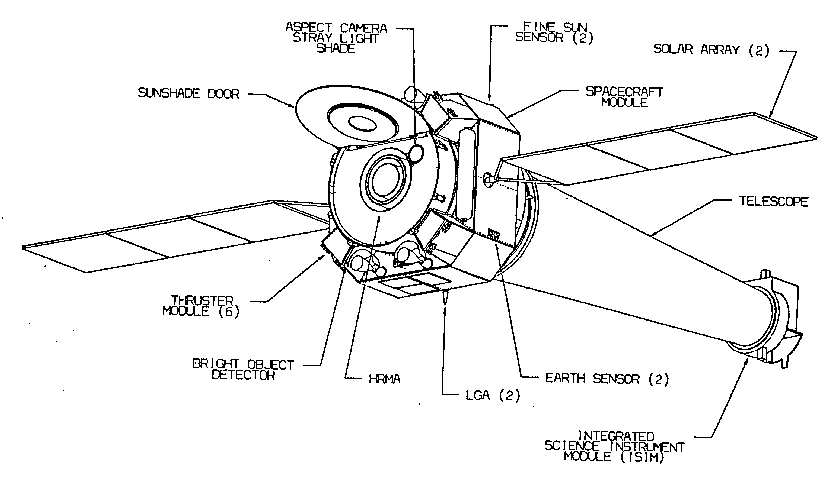 Figure 1. The deployed appearance of AXAF-I, as viewed from a position in the

(towards the target being viewed),

,

(opposite the Sun) octant of spacecraft coordinates. The span of the solar arrays is 18.9 m and the overall length of AXAF-I is 12.2 m. The on-orbit weight of the Observatory is about 4420 kg (excluding margins). The HRMA (high resolution mirror assembly) can be seen under the sunshade door, and one of the LGAs (low gain antennas) used to transmit and receive data can be seen on the underside of the spacecraft module.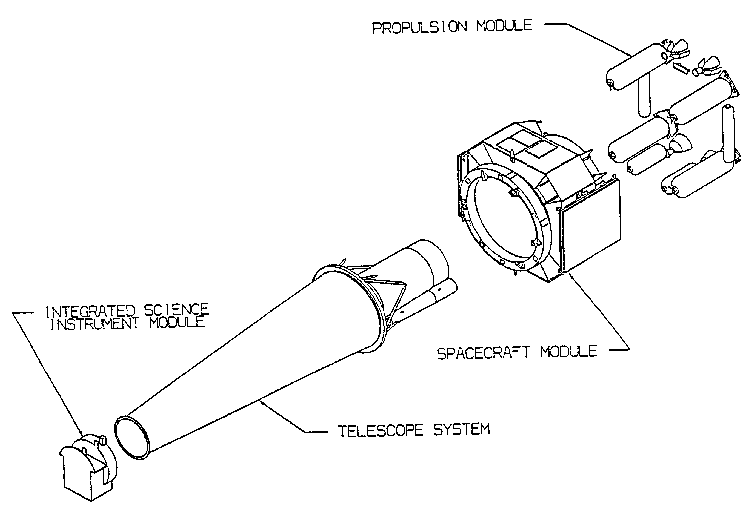 Figure 2. An exploded view of AXAF-I, showing the three major components of the Observatory: the integrated science instrument module (the science instrument module equipped with the focal plane science instruments), the telescope system, and the spacecraft module. The figure also shows one possible configuration of the propulsion module that is used to raise the Observatory from shuttle orbit to its final orbit.
The optical bench assembly provides the basic structure of the X-ray telescope, and maintains the science instrument module in an almost-fixed position relative to the high-resolution mirror assembly. The optical bench is mounted to the spacecraft structure at the objective of the telescope, and to the science instrument module at the focal plane end (see Fig. 2). The stability of the optical bench is critical to achieving a consistent X-ray focus and precise reconstruction of the X-ray image.
A third subsystem in the X-ray telescope is the support structure assembly, which provides the direct support for the X-ray mirrors and is, in turn, attached to the optical bench assembly. The support structure assembly is also responsible for mounting the aspect camera and the gyroscopes in a way that is rigidly tied to the X-ray optical system, and must provide a structure that mounts the transmission gratings and deploys them into the X-ray light path when required. It also provides a contamination cover, which protects the mirrors during launch and ascent to the final orbit.
Although the aspect camera, the aspect camera light shade, and the gyroscopes are physically attached to the telescope, they are considered to be a part of the spacecraft. Similarly, the thermal control of the mirrors, the optical bench, and other components in the telescope are usually thought of as being parts of the spacecraft.

---
Next:
The Science Instrument Module
Up:
The Systems of the AXAF Observatory
Previous:
The Spacecraft
---
----------------