August 16-18, 2022
Hybrid (hosted virtually and at the Center for Astrophysics | Harvard & Smithsonian)
Organized by the Chandra X-ray Center
Please contact us at cxcworkshop@cfa.harvard.edu with any questions.
Talk Schedule and Abstracts
YouTube PlayList of all the Talks
Abstracts of all scheduled presentations
Invited Speakers
Katie Auchettl (she/her/hers), University of Melbourne/University of California, Santa Cruz
Jan Eldridge (she/her/they), University of Auckland
Chris Fryer, Los Alamos National Laboratory
Tyler Holland-Ashford (he/him), Center for Astrophysics | Harvard & Smithsonian
Raffaella Margutti (she/her), UC Berkeley
Abigail Polin (she/her), Caltech & Carnegie Observatories
Ivo Rolf Seitenzahl (he/his/him), UNSW Canberra
Manami Sasaki (she/her), Dr Karl Remeis Observatory, Friedrich-Alexander-University Erlangen-Nürnberg
Jacco Vink (he/him), Anton Pannekoek Institute for Astronomy & GRAPPA, University of Amsterdam
Scope
The Chandra X-ray Center is excited to offer a hybrid science workshop this August at the Center for Astrophysics | Harvard & Smithsonian on the subject of Supernova Remnants and Their Progenitors.
Chandra, with its high-spatial resolution and high-sensitivity, has provided a detailed perspective into the demise of massive stars through their explosive remnants. This science workshop will cover observational and theoretical topics of supernova remnants and explore the connections to their progenitors and progeny. Topic coverage will also include synergies with other X-ray missions (past, present, and future) and multiwavelength observations.
Conference Photograph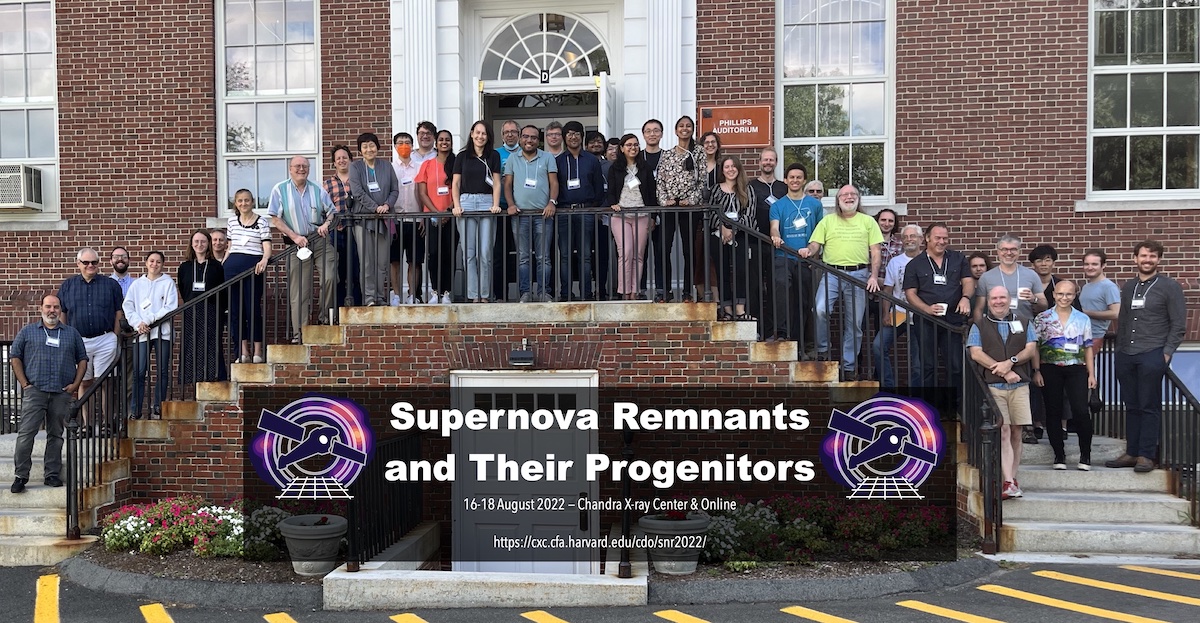 Meeting Logistics and Registration
Registration for in-person participation will incur a modest registration fee ($100), while virtual registration will be free. The registration fee for in-person participants will be handled via an EventBrite registration form and covers materials, a morning and afternoon refreshments each day, and a reception [TBD]. In-person participants are responsible for arranging their own lunch and hotel accommodations. Virtual registration through the Expression of Interest form will remain open till July 29th.
Please use our expression of interest form to indicate your interest in attending, note for all entries after May 25th, in-person attendance cannot be guaranteed:
https://forms.gle/FSP1rm4cSktcnbUMA
All attendees are expected to abide by the code of conduct for Chandra X-ray Center events.
Additional Logistics for In-Person Participation [New]
Please note, the in-person participation will be limited to 80 individuals.
Masks will be required for all in-person participants at all indoor activities. Failure to comply will result in removal from the event.
Proof of vaccination will be required upon check-in to enter the event. Please bring proof of vaccination when collecting your badge or you will be denied entry.
Please do not attend if you are experiencing symptoms. A live video link will be provided for all registered guests.
Important Dates [Updated]
May 25th - Expression of Interest for In-Person Participation Due
July 13th - Last Day to Submit Talk Requests and Talk Information
July 15th [updated] - End of First In-person Registration Period
July 19th [updated] - Announcement on Additional In-person Registration Availability
July 29th - Virtual Registration Period Ends
Science Organizing Committee
Carles Badenes (University of Pittsburgh)
Selma E. de Mink (Max Planck Institute for Astrophysics in Garching)
Wolfgang Kerzendorf (Michigan State University)
Shiu-Hang (Herman) Lee (Kyoto University)
Laura Lopez, co-Chair (Ohio State University)
Dan Milisavljevic (Purdue University)
Daniel Patnaude, co-Chair (Center for Astrophysics | Harvard and Smithsonian)
Samar Safi-Harb (University of Manitoba)
Tea Temim (Princeton University)
Benjamin Williams (University of Washington)
Local Organizing Committee
Jason Conroy (CfA/CXC)
Tara Gokas (CfA/CXC)
Rodolfo Montez Jr. (CfA/CXC), Chair
Evan Tingle (CfA/CXC)
Aldo Solares (CfA/CXC)