Next:
Advances in CIAO Interactive
Up:
Chandra News
Previous:
Calibration Status
Subsections
---
CIAO (Chandra Interactive Analysis of Obser- vations) is the name for the suite of tools and applications developed at the CXC for the analysis of data from the Chandra X-Ray Observatory and other missions. A major advance over the first versions of CIAO was the release of CIAO 2.0 in December 2000, whose highlights included, among others (too numerous to be all listed here), enhancements to Sherpa (the modeling and fitting application),the introduction of the GUIDE package for high resolution spectral analysis, advanced filtering capabilities, upgrades to the event processing tools, response tools and source detection and improved online help. The parallel release of Chandra calibration files in CALDB format and reprocessed data now coming into the archive are greatly simplifying Chandra analysis and are giving astronomers much greater power to extract full value from Chandra data.

The new release, CIAO 2.1, in addition to adding a few more analysis tools and bug fixes, marks the first time that CIAO software has been exported to the Alpha operating system, complementing the availability for selected Solaris and Linux operating systems already in previous versions.

Concurrently with the release of CIAO 2.0 an entirely new set of Web pages was introduced on-line, to help and guide users during their data analysis. They contain not only all the files needed to install and run CIAO, but also a wealth of information and documentation regarding Chandra data, data analysis threads, FAQs, bug list, etc.

A strong emphasis has been put on enhancing the CIAO documentation, not only the on-line help for specific tools, but also the data analysis threads. The latter are processing recipes designed to teach users by leading them, step-by-step, through a procedure. These threads range from basic (e.g. how to download data from the Chandra archive,) to more complex (e.g. how to fit grating spectra,) but each thread describes the process in the same easy-to-use manner. Threads are ``living" documents and are being updated and improved continuously and great care has been taken in making sure that they faithfully reproduce the behavior of each tool, especially when new software patches or releases are distributed. Threads are also added, if needed, in connection with new releases of calibration files, when this requires a manual re-running of steps normally covered by the CXC standard data processing pipeline.

All the data used to write and test the thread are collected and clearly indicated at beginning of each thread and globally at the end of the main thread page, so that anyone who wishes to repeat exactly the steps shown can easily do so after downloading the required dataset from the archive. Threads cover all the main areas of Chandra data analysis and new ones are added periodically: we plan to widen the range of subjects by adding more threads relative to, e.g., extended source analysis and timing analysis. A good start for beginner CIAO users are the introductory threads which illustrate the syntax, all the basic concepts behind CIAO and give examples about the most basic and frequent operations.

Several threads, often otherwise complicated, have been made automated in the form of `scripts'. Such scripts have for example greatly simplified the way in which it is now possible to construct an observation-specific grating Ancillary Response Function or the procedure to quickly extract spectra and construct proper response files in the imaging spectroscopy case. Data analysis scripts will be fully integrated in future CIAO releases and we plan to also make them available within the CIAO graphical windows (e.g. Firstlook.)

While greatly improved with respect to previous versions, CIAO continues to be enhanced and longer term developments are in the works. However we strive to respond to users' needs and would like to fold users' suggestions and comments in our plans: we strongly encourage to e-mail suggestions for upgrades and improvements to ciaoenhancements@head-cfa.harvard.edu.

Useful web references:

The main CIAO web page can be found at:

http://cxc.harvard.edu/ciao or

http://chandra.ledas.ac.uk/ciao (UK mirror site)

Data analysis threads are at:

http://cxc.harvard.edu/ciao/documents_threads.html

All CIAO WEB pages can also be downloaded for a faster view in case of slow internet connection. Instructions are at:

http://cxc.harvard.edu/ciao2.0/index_wget.html

Questions about CIAO should be addressed to the CXC Help Desk at:

http://cxc.harvard.edu -> HELP_DESK




  

Figure 5: Users at work during the hands-on session of the 1st CIAO workshop, held in January 2001 at the CXC. The next workshop is planned for 23-25 April 2001. Check the CIAO WEB page for announcements.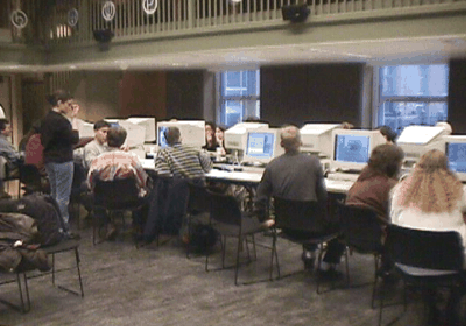 LINK TO POSTSCRIPT FILE for Figure 5


Some comments from workshop attendees:

``From my point of view, the structure of the talks has been very well organized and most of the talks were very useful in stressing the most important part of the data analysis procedures: I am very satisfied!!!" (Alberto Moretti, Merate Observatory)

``I think the workshop was VERY useful for pointing out caveats, reminding of the complexities of the data and helping with the lingo that will make it much easier to navigate through the help pages on the web." (Dara Norman, Stony Brook)

``I would have liked more days or perhaps half a day more." (Percy Gomez, Carnegie Mellon)

- Antonella Fruscione on behalf of the CIAO development team
---





Next: Advances in CIAO Interactive
Up: Chandra News
Previous: Calibration Status
cxchelp@head-cfa.harvard.edu