Create a PSF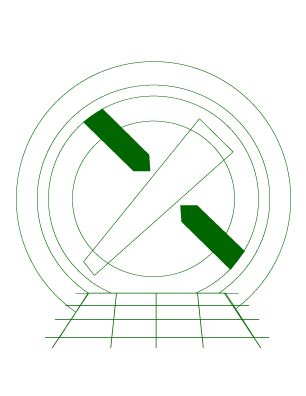 CIAO 4.4 Science Threads
---
Synopsis:
The Chandra Ray Tracer (ChaRT) gives the best available HRMA Point Spread Function (PSF) for a point source at any off-axis angle and for any energy or spectrum. The PSF libraries are used in this thread to create a PSF for a specific observation. A comparison of these methods is available from the ChaRT webpages.

CIAO 4.4 is the last software release that will include the mkpsf tool. It will be removed from the next version of CIAO.
Purpose:
To create an image of the PSF for a source, and normalize it to the source flux. The PSF changes with source position and photon energy, and is created by interpolation of a library of pre-launch calibration files (the PSF hypercube library).
Related Links:
Last Update: 15 Dec 2011 - reviewed for CIAO 4.4: added note that mkpsf will be removed in the next CIAO release.
---
---
---


Parameters for /home/username/cxcds_param/dmextract.par


#--------------------------------------------------------------------
#
# DMEXTRACT -- extract columns or counts from an event list
#
#--------------------------------------------------------------------
        infile = acis_1838_evt2.fits[sky=circle(4069.5,4250.5,20)][bin energy=300:8000:100] Input event file 
       outfile = energy_histogram.fits Enter output file name
          (bkg = )                Background region file or fixed background (counts/pixel/s) subtraction
        (error = gaussian)        Method for error determination(poisson|gaussian|<variance file>)
     (bkgerror = gaussian)        Method for background error determination(poisson|gaussian|<variance file>)
      (bkgnorm = 1.0)             Background normalization
          (exp = )                Exposure map image file
       (bkgexp = )                Background exposure map image file
      (sys_err = 0)               Fixed systematic error value for SYS_ERR keyword
          (opt = generic)         Output file type: pha1 
     (defaults = ${ASCDS_CALIB}/cxo.mdb -> /soft/ciao/data/cxo.mdb) Instrument defaults file
         (wmap = )                WMAP filter/binning (e.g. det=8 or default)
      (clobber = no)              OK to overwrite existing output file(s)?
      (verbose = 0)               Verbosity level
         (mode = ql)              


---


Parameters for /home/username/cxcds_param/dmstat.par


        infile = img_src_0.3-8keV.fits[sky=annulus(4069.5,4250.5,80,90)] Input file specification
   out_columns = EVENTS_IMAGE     Output Column Label
       out_min = 0                Output Minimum Value
   out_min_loc = 4069.5,4160.5    Output Minimum Location Value
       out_max = 3                Output Maximum Value
   out_max_loc = 4150.5,4232.5    Output Maximum Location Value
      out_mean = 0.063802083333   Output Mean Value
    out_median =                  Output Median Value
     out_sigma =                  Output Sigma Value
       out_sum = 343              Output Sum of Values
      out_good = 5376             Output Number Good Values
      out_null = 27385            Output Number Null Values
    out_cnvrgd =                  Converged?
 out_cntrd_log =                  Output Centroid Log Value
out_cntrd_phys =                  Output Centroid Phys Value
out_sigma_cntrd =                  Output Sigma Centroid Value
     (centroid = no)              Calculate centroid if image?
       (median = no)              Calculate median value?
        (sigma = no)              Calculate the population standard deviation?
         (clip = no)              Calculate stats using sigma clipping?
       (nsigma = 3)               Number of sigma to clip
      (maxiter = 20)              Maximum number of iterations
      (verbose = 1)               Verbosity level
         (mode = ql)              


---


Parameters for /home/username/cxcds_param/mkpsf.par


#
# MKPSF -- retrieve PSF from library for given (energy,x,y) position
#
###########################################################################
#
#       COORDINATE SYSTEM parameters
#
         coord = SKY              input coordinate system
#
#       PSF binning parameters
#
       binspax = INDEF            PSF binning in x direction
       binspay = INDEF            PSF binning in y direction
#
#       PSF size parameters
#
      sizeoutx = INDEF            PSF size in x direction
      sizeouty = INDEF            PSF size in y direction
#
#       input file parameters
#
        infile = img_src_0.3-8keV.fits input file
#
#       PSF position parameters
#
        energy = 3                energy in keV
             x = 4069.5           x
             y = 4250.5           y
#
#       PSF library file parameters
#

    psflibfile = /soft/ciao/CALDB/data/chandra/acis/2d_psf/aciss1998-11-052dpsf1N0002.fits PSF library file

#
#       output file parameters
#
       outfile = psf_3keV.fits    output file
    outpsffile =                  psflib data output basename ('.' to use output file)
#
#       pixlib geometry parameter file
#
      (geompar = geom)            Parameter file for Pixlib Geometry files
#
#       PSF roll parameter
#
       (rotpts = 9)               number of pixel points in x or y direction for rotation
#
# debug print control
#
      (verbose = 0)               verbose mode
#
# system variables
#
      (clobber = no)              overwrite existing output file?
         (mode = ql)              


---


Parameters for /home/username/cxcds_param/dmimgcalc.par


# parameter file for dmimgcalc
        infile = psf_3keV.fits    Input file #1
       infile2 = none             Input file #2
       outfile = psf_3keV_norm.fits output file
     operation = add              arithmetic operation
       (weight = 12011)           weight for first image
      (weight2 = 1)               weight for second image
    (lookupTab = ${ASCDS_CALIB}/dmmerge_header_lookup.txt -> /soft/ciao/data/dmmerge_header_lookup.txt) lookup table
      (clobber = no)              delete old output
      (verbose = 0)               output verbosity
         (mode = ql)



---
| | |
| --- | --- |
| 14 Dec 2004 | updated for CIAO 3.2: include dmcoords asolfile parameter |
| 12 Dec 2005 | updated for CIAO 3.3: default value of dmextract error and bkgerror parameters is "gaussian"; changes to dmstat parameter file |
| 01 Aug 2006 | corrected use of azimuth (phi) and elevation (also called the off-axis angle, theta) |
| 01 Dec 2006 | updated for CIAO 3.4: ChIPS version |
| 16 Jan 2008 | updated for CIAO 4.0: ChIPS plotting updated to CIAO 4.0 syntax; dmstat and dmlist are alternatives for finding the energy and count rate; filename and screen output updated for reprocessed data (version N002 event file) |
| 09 Feb 2009 | updated for CIAO 4.1: images are inline; added verbose parameter to dmstat output; calibration file paths updated for CALDB 4; Python and S-Lang syntax included for ChIPS commands |
| 08 Feb 2010 | updated for CIAO 4.2: ChIPS version; dmcoords asolfile parameter is automatic (not hidden) |
| 12 Jan 2011 | reviewed for CIAO 4.3: no changes |
| 15 Dec 2011 | reviewed for CIAO 4.4: added note that mkpsf will be removed in the next CIAO release. |
---