An Estimated Background Image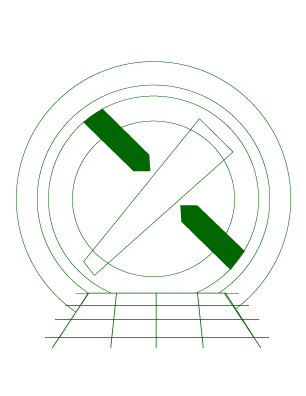 CIAO 4.15 Science Threads
---
Overview
Synopsis:
This thread shows one method for making an estimated background image for a dataset. The resulting image can be used with any data analysis tool that takes a background image, e.g. wavdetect or dmextract.
Run this thread if:
you want to create a background image for an ACIS or HRC imaging observation. This method is suited to fields which contain a few point sources; it will not work well with very large extended objects.
Last Update: 14 Jan 2022 - Review for CIAO 4.14. Changed OBSID to 2254. Updated to use fluximage to create the image and exposure maps.
---
Contents
---
---


Parameters for /home/username/cxcds_param/aconvolve.par


        infile = 3C295_broad_dss.img Input file name
       outfile = 3C295_broad_dss_sm.img Output file name
    kernelspec = lib:gaus(2,5,1,3,3) Kernel specification
  (writekernel = no)              Output kernel
   (kernelfile = ./.)             Output kernel file name
     (writefft = no)              Write fft outputs
      (fftroot = ./.)             Root name for FFT files
       (method = fft)             Convolution method
        (edges = wrap)            Edge treatment
        (const = 0)               Constant value to use at edges with edges=constant
          (pad = no)              Pad data axes to next power of 2^n
       (center = no)              Center FFT output
   (normkernel = area)            Normalize the kernel
      (clobber = no)              Clobber existing output
      (verbose = 0)               Debug level
         (mode = ql)               
             
---


Parameters for /home/username/cxcds_param/dmimgfilt.par



        infile = 3C295_broad_dss.expmap Input image file name
       outfile = 3C295_broad_dss_sm.expmap Output file name
      function = mean             Filter function
          mask = annulus(0,0,20,22) masking filter
      (numiter = 1)               Number of iterations to loop over
    (lookupTab = ${ASCDS_CALIB}/dmmerge_header_lookup.txt -> /export/miniconda/envs/ciao-4.14/data/dmmerge_header_lookup.txt) lookup table
      (verbose = 0)               Tool verbosity
      (clobber = no)              Clobber existing output?
         (mode = ql)  
         (box3 = box(0,0,3,3))    Box: 3x3
         (box5 = box(0,0,5,5))    Box: 5x5
         (box7 = box(0,0,7,7))    Box: 7x7
      (circle3 = circle(0,0,3))   Circle: r=3
      (circle5 = circle(0,0,5))   Circle: r=5
      (circle7 = circle(0,0,7))   Circle: r=7
   (annulus5_3 = annulus(0,0,3,5)) Annulus: o=5,i=3
   (annulus7_5 = annulus(0,0,5,7)) Annulus: o=7,i=5
   (annulus7_3 = annulus(0,0,3,7)) Annulus: o=7,i=3
      (bann5_3 = box(0,0,5,5)-box(0,0,3,3)) Box Annulus: o=5,i=3
      (bann7_3 = box(0,0,7,7)-box(0,0,3,3)) Box Annulus: o=7,i=3
      (bann7_5 = box(0,0,7,7)-box(0,0,5,5)) Box Annulus: o=7,i=5
    
---
History
| | |
| --- | --- |
| 13 Jul 2009 | New for CIAO 4.1 |
| 05 Feb 2010 | reviewed for CIAO 4.2: no changes |
| 13 Jan 2011 | reviewed for CIAO 4.3: no changes |
| 10 Jan 2012 | reviewed for CIAO 4.4: no changes |
| 03 Dec 2012 | Review for CIAO 4.5; cleanup of version info (skyfov) and frequency of multiple asol files per observation (few). |
| 30 Apr 2013 | Added a section on using with wavdetetect tool. Simplify dmcopy example and add an energy filter. |
| 26 Nov 2013 | Review for CIAO 4.6; noted early data and need to run chandra_repro or r4_header_update. |
| 17 Dec 2014 | Reviewed for CIAO 4.7; no changes |
| 14 Jan 2022 | Review for CIAO 4.14. Changed OBSID to 2254. Updated to use fluximage to create the image and exposure maps. |
---