Source Position for Grating Data with a Piled or Blocked Zero Order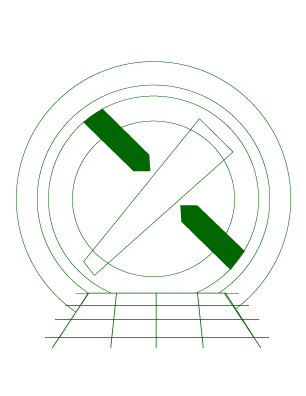 CIAO 4.15 Science Threads
---
Overview
Synopsis:
The tgdetect tool is usually used to find the centroid of the zero-order image in a grating event list. If the zero-order source is piled, there is the potential for the centroid to be incorrect due to the "hole" created in the data.
When observing a bright source (e.g. Cygnus X-2, ObsID 1102), the proposer may choose to have the zero-order region blocked via on-board software to avoid telemetry problems.
tgdetect2 can now be used to automate the selection of the best detect method.
Either of these situations may result in a misplaced zero order, which affects event order sorting and will lead to incorrect wavelength scales.
Purpose:
To determine the correct source position for a grating observation with a piled or blocked zero order. New spectral data is extracted with the updated source position.
Related Links:
Last Update: 15 Feb 2022 - Review for CIAO 4.14. Updated for Repro-5 and CALDB 4.9.6
---
Contents
---
---


Parameters for /home/username/cxcds_param/tgdetect.par



##
## TGDETECT -- Create filter; run celldetect; narrow down detected
##             'zero order' source list; set source id's; match 
##             sources to previous OBI source list.
##
## Note: if either "infile" or "OBI_srclist_file" are @lists, only
## the first item on the list is read in;  this tool only works on
## one set of input files;  if more than one file is listed, 
## everything but the first are ignored.
##
        infile = acisf01927_000N003_evt1.fits Input L1 event file
OBI_srclist_file = NONE             Input source position(s) file from previous OBI or NONE
       outfile = tgd.fits         Output source position(s) file name
#
#   output file naming
#
     (temproot = )                Path and root file name to be given to temporary files
     (keeptemp = no)              Keep temporary files?
     (keepexit = no)              Keep exit status file?
#
#
#
     (zo_pos_x = default)         Center GZO filter sky X position (default=pixel(ra_nom))
     (zo_pos_y = default)         Center GZO filter sky Y position (default=pixel(dec_nom))
 (zo_sz_filt_x = default)         Size of GZO filter in X pixels (ACIS=400; HRC=1800)
 (zo_sz_filt_y = default)         Size of GZO filter in Y pixels (ACIS=400; HRC=1800)
   (snr_thresh = 40)              SNR threshold to select the detected sources
# 
#   celldetect parameters
#
       (expstk = none)            list of exposure map files
       (thresh = )celldetect.thresh -> 3) celldetect source threshold
     (ellsigma = 3.0)             Size of output source ellipses (in sigmas)
     (expratio = 0)               cutoff ratio for source cell exposure variation
    (findpeaks = yes)             find local peaks for celldetect
(celldetect_log = )celldetect.log -> no) make a celldetect log file?
     (psftable = )celldetect.psftable -> /proj/xena/ciaot_install/Linux64.121105/ciao-4.5/data/psfsize20010416.fits) table of PSF size data, for celldetect
    (fixedcell = 15)              celldetect fixed cell size to use
(fixedcell_cc_mode = 15)              celldetect fixed cell size to use for CC mode ACIS data
      (bkgfile = none)            background file, for celldetect
     (bkgvalue = )celldetect.bkgvalue -> 0) background count/pixel, for celldetect
  (bkgerrvalue = )celldetect.bkgerrvalue -> 0) background error, for celldetect
        (eband = )celldetect.eband -> 1.4967) energy band, for celldetect
      (eenergy = )celldetect.eenergy -> 0.8) encircled energy of PSF, for celldetect
      (snrfile = none)            celldetect snr output file (for convolution only)
     (convolve = )celldetect.convolve -> no) use convolutions for celldetect
      (xoffset = INDEF)           celldetect offset of x axis from optical axis
      (yoffset = INDEF)           celldetect offset of y axis from optical axis
     (cellfile = none)            output cell size image file
     (centroid = yes)             compute source centroids in celldetection?
#
#   tgidselectsrc parameters
#
(snr_ratio_limit = )tgidselectsrc.snr_ratio_limit -> 1) Value of SNR ratio to use as lower limit
     (setsrcid = )tgidselectsrc.setsrcid -> yes) Set src ids in output file?
#
#   tgmatchsrc parameters
#
(max_separation = )tgmatchsrc.max_separation -> 3) Maximum allowed separation (arcsec) for sources to match
#
#
      (clobber = no)              OK to overwrite existing output file(s)?
      (verbose = 0)               Verbosity level (0 = no display)
         (mode = ql)              



---


Parameters for /home/username/cxcds_param/tg_findzo.par



Parameters for /home/kjg/cxcds_param4/tg_findzo.par

        infile = acisf01927_000N003_evt1.fits Input event file
       outfile = fzo.fits         Output source table file
     (zo_pos_x = default)         Initial guess for sky-x position (default=pixel(ra_targ))
     (zo_pos_y = default)         Initial guess for sky-y position (default=pixel(dec_targ))
      (clobber = no)              OK to overwrite existing output file?
      (verbose = 0)               Verbosity level (0 = no display)
         (mode = h)               



---


Parameters for /home/username/cxcds_param/tg_create_mask.par


##
## TG_CREATE_MASK -- Calculates the mask regions of the grating arms
##    for AXAF flight L1 grating data files.  The output is a region
##    file(s) in sky coordinates.
##
        infile = acisf01927_000N003_evt1.fits Input event file or stack
       outfile = tg_mask.fits     Output region file or stack
 input_pos_tab = fzo.fits         Input table with zero order positions or stack
   grating_obs = header_value     Observed grating type (header_value|HETG|HEG|MEG|LETG)
     sA_zero_x = 1                Source A - x position of zero order
     sA_zero_y = 1                Source A - y position of zero order
     sB_zero_x = 1                Source B - x position of zero order
     sB_zero_y = 1                Source B - y position of zero order
     sC_zero_x = 1                Source C - x position of zero order
     sC_zero_y = 1                Source C - y position of zero order
     sD_zero_x = 1                Source D - x position of zero order
     sD_zero_y = 1                Source D - y position of zero order
     sE_zero_x = 1                Source E - x position of zero order
     sE_zero_y = 1                Source E - y position of zero order
     sF_zero_x = 1                Source F - x position of zero order
     sF_zero_y = 1                Source F - y position of zero order
     sG_zero_x = 1                Source G - x position of zero order
     sG_zero_y = 1                Source G - y position of zero order
     sH_zero_x = 1                Source H - x position of zero order
     sH_zero_y = 1                Source H - y position of zero order
     sI_zero_x = 1                Source I - x position of zero order
     sI_zero_y = 1                Source I - y position of zero order
     sJ_zero_x = 1                Source J - x position of zero order
     sJ_zero_y = 1                Source J - y position of zero order
(input_psf_tab = CALDB)           Calibration file with mirror psf vs off-axis angle
     (detector = header_value)    Detector type: ACIS | HRC-I | HRC-S | header_value
(radius_factor_zero = 50)              A scale factor which multiplies the app. calculation of the one-sigma zero order radius
(width_factor_hetg = 35)              A scale factor which multiplies the one-sigma width of the heg/meg mask in the cross-dispersion direction
(width_factor_letg = 40)              A scale factor which multiplies the one-sigma width of the letg mask in the cross-dispersion direction
(r_astig_max_hetg = 0.5600000000000001) Max grating r coord (deg, along the dispersion) for HETG astigmatism calc
(r_astig_max_letg = 1.1)             Max grating r coord (deg, along the dispersion) for LETG astigmatism calc
(r_mask_max_hetg = 0.992)           Max grating r coord (deg) for HETG mask (to support offset pointing)
(r_mask_max_letg = 2.1)             Max grating r coordinate (deg) for LETG mask (to support offset pointing)
# --------------------------------------------------------------------------
# The parameters below are to be set ONLY if the user wants to use their
# own grating mask sizes instead of having the masks automatically generated.
# Only ONE input file, with up to 10 soures, can be processed using the user 
# params.  @ lists of multiple files can only be done with automated mask
# processing, or by running each file individually with hand set mask sizes.
# To start, you MUST set the following parameters:
#
# > pset tg_create_mask use_user_pars=yes last_source_toread=[letter A -> J]
#
# The parameter last_source_toread should be set to the last source letter
# for which you will enter parameters.  If you want to input 2 sources 
# (regardless of their source id's), the last_source_toread=B. Sections
# A -> J are for (upto) 10 user specified sources.  In each sections, 
# each source must have an ID, a zero order center position specified, 
# as well as the grating mask width(s).  An example with 2 HETG sources, 
# with src_id's 6 and 3:
#
# > pset tg_create_mask use_user_pars=yes last_source_toread=B
# > pset tg_create_mask sA_id=6 sA_zero_x=4762.34 sA_zero_y=2344.29 
# > pset tg_create_mask sA_zero_rad=35 sA_width_heg=25 sA_width_meg=28
# > pset tg_create_mask sB_id=3 sB_zero_x=4063.54 sB_zero_y=6346.62 
# > pset tg_create_mask sB_zero_rad=45 sB_width_heg=50 sB_width_meg=75
#              (units are all in sky pixels)
#
# NOTE: for Continuous Clocking data (CC mode), the HETG mask does not
# require the s#_width_heg, since the meg mask will encompase the entire
# data set.  HEG event processing in CC mode is done using the next 
# tool tg_resolve_events.
# --------------------------------------------------------------------------
(use_user_pars = no)              Use the user defined mask parameters below: yes or no?
(last_source_toread = A)               Last source name to be read; character A->J.
# --------------------------------------------------------------------------
# 			Source A parameters
# --------------------------------------------------------------------------
        (sA_id = 1)               Source A - source id number
  (sA_zero_rad = )                Source A - radius of zero order mask
 (sA_width_heg = )                Source A - width of heg mask in sky pixels
 (sA_width_meg = )                Source A - width of meg mask in sky pixels
 (sA_width_leg = )                Source A - width of leg mask in sky pixels
# --------------------------------------------------------------------------
# 			Source B parameters
# --------------------------------------------------------------------------
        (sB_id = 2)               Source B - source id number
  (sB_zero_rad = )                Source B - radius of zero order mask
 (sB_width_heg = )                Source B - width of heg mask in sky pixels
 (sB_width_meg = )                Source B - width of meg mask in sky pixels
 (sB_width_leg = )                Source B - width of leg mask in sky pixels
# --------------------------------------------------------------------------
# 			Source C parameters
# --------------------------------------------------------------------------
        (sC_id = 3)               Source C - source id number
  (sC_zero_rad = )                Source C - radius of zero order mask
 (sC_width_heg = )                Source C - width of heg mask in sky pixels
 (sC_width_meg = )                Source C - width of meg mask in sky pixels
 (sC_width_leg = )                Source C - width of leg mask in sky pixels
# --------------------------------------------------------------------------
# 			Source D parameters
# --------------------------------------------------------------------------
        (sD_id = 4)               Source D - source id number
  (sD_zero_rad = )                Source D - radius of zero order mask
 (sD_width_heg = )                Source D - width of heg mask in sky pixels
 (sD_width_meg = )                Source D - width of meg mask in sky pixels
 (sD_width_leg = )                Source D - width of leg mask in sky pixels
# --------------------------------------------------------------------------
# 			Source E parameters
# --------------------------------------------------------------------------
        (sE_id = 5)               Source E - source id number
  (sE_zero_rad = )                Source E - radius of zero order mask
 (sE_width_heg = )                Source E - width of heg mask in sky pixels
 (sE_width_meg = )                Source E - width of meg mask in sky pixels
 (sE_width_leg = )                Source E - width of leg mask in sky pixels
# --------------------------------------------------------------------------
# 			Source F parameters
# --------------------------------------------------------------------------
        (sF_id = 6)               Source F - source id number
  (sF_zero_rad = )                Source F - radius of zero order mask
 (sF_width_heg = )                Source F - width of heg mask in sky pixels
 (sF_width_meg = )                Source F - width of meg mask in sky pixels
 (sF_width_leg = )                Source F - width of leg mask in sky pixels
# --------------------------------------------------------------------------
# 			Source G parameters
# --------------------------------------------------------------------------
        (sG_id = 7)               Source G - source id number
  (sG_zero_rad = )                Source G - radius of zero order mask
 (sG_width_heg = )                Source G - width of heg mask in sky pixels
 (sG_width_meg = )                Source G - width of meg mask in sky pixels
 (sG_width_leg = )                Source G - width of leg mask in sky pixels
# --------------------------------------------------------------------------
# 			Source H parameters
# --------------------------------------------------------------------------
        (sH_id = 8)               Source H - source id number
  (sH_zero_rad = )                Source H - radius of zero order mask
 (sH_width_heg = )                Source H - width of heg mask in sky pixels
 (sH_width_meg = )                Source H - width of meg mask in sky pixels
 (sH_width_leg = )                Source H - width of leg mask in sky pixels
# --------------------------------------------------------------------------
# 			Source I parameters
# --------------------------------------------------------------------------
        (sI_id = 9)               Source I - source id number
  (sI_zero_rad = )                Source I - radius of zero order mask
 (sI_width_heg = )                Source I - width of heg mask in sky pixels
 (sI_width_meg = )                Source I - width of meg mask in sky pixels
 (sI_width_leg = )                Source I - width of leg mask in sky pixels
# --------------------------------------------------------------------------
# 			Source J parameters
# --------------------------------------------------------------------------
        (sJ_id = 10)              Source J - source id number
  (sJ_zero_rad = )                Source J - radius of zero order mask
 (sJ_width_heg = )                Source J - width of heg mask in sky pixels
 (sJ_width_meg = )                Source J - width of meg mask in sky pixels
 (sJ_width_leg = )                Source J - width of leg mask in sky pixels
# --------------------------------------------------------------------------
      (geompar = geom)            Parameter file for Pixlib Geometry files
      (verbose = 0)               Verbose level: 0 - no output, 5 - max verbosity
      (clobber = no)              Clobber existing outfile?
         (mode = ql)              



---
History
04 Apr 2006
new for CIAO 3.3: original version
01 Dec 2006
reviewed for CIAO 3.4: no changes
11 Jan 2008
updated for CIAO 4.0: ds9 now automatically looks for the "

[REGION]

" extension in the region file, so it doesn't have to be specified; filenames and screen output updated for reprocessed data (version N004 files)
12 Feb 2009
updated for CIAO 4.1: images are inline; added more information about

findzo.sl

13 Mar 2009

findzo.sl

script actually named

tg_findzo

16 Jun 2009
added About the Chandra Grating Data Archive and Catalog section
27 Jan 2010
reviewed for CIAO 4.2: no changes
21 Jun 2010
An updated version of the Chandra ABC Guide to Pileup is now linked to this thread.
12 Jan 2011
reviewed for CIAO 4.3: no changes
06 Jan 2012
reviewed for CIAO 4.4: no changes
28 Nov 2012
Re-written to take advantage of new tg_findzo tool in CIAO 4.5
11 Dec 2013
Review for CIAO 4.6. The new tgdetect2 automates the selection of tgdetect or tg_findzo.
23 Dec 2014
Review for CIAO 4.7; no changes.
15 Feb 2022
Review for CIAO 4.14. Updated for Repro-5 and CALDB 4.9.6
---