Compute Net Counts, Rate, or Flux for Point Sources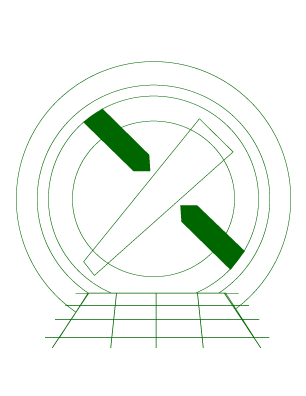 CIAO 4.2 Science Threads
---
Last Update: 7 Jun 2010 - use dmextract to get counts in source and background apertures; minor related adjustments to screen output
Synopsis:
The tool aprates computes values and bounds for source intensity quantities (net counts, source rate, photon flux, energy flux) using counts and exposure data obtained in source and background apertures.
This thread runs aprates multiple times - from computing simple net counts to computing energy fluxes with limits - each building on the previous aprates command. If you know which quantities to calculate, you can just set the appropriate parameters and run aprates once.
aprates uses Bayesian statistics to compute the background-marginalized, posterior probability distribution for source intensity, assuming non-informative prior distributions for background and source intensity (for details on the algorithm, see the Background Marginalized X-ray Source Intensity memo). The posterior distribution can be used to determine intensity value and confidence bounds or intensity upper limit.
Read this thread if:
you want to calculate net counts, source rate, photon flux, and/or energy flux for ACIS or HRC data.
Related Links:
The Chandra Source Catalog (CSC) - reference fluxes for most sources are available from the CSC with no analysis required. Note that the fluxes in the CSC are calculated for specific models (absorbed power law and blackbody) and with certain assumptions about conversion from counts to flux.
---
---
---


Parameters for /home/username/cxcds_param/aprates_netcts.par



Parameters for aprates_netcts.par

     (src_cnts = 147.748)
(src_cnts_err_lo = 135.396)
(src_cnts_err_up = 160.224)
(src_cnts_conf = 0.680254)
(src_cnts_status = 0)
(src_cnts_signif = 11.8158)
(src_cnts_mode = 147.743)
     (src_rate = 147.743)
(src_rate_err_lo = 135.391)
(src_rate_err_up = 160.219)
(src_rate_conf = 0.680254)
(src_rate_status = 0)
(src_rate_signif = 11.8158)
(src_rate_mode = 147.743)
(photflux_aper = 147.743)
(photflux_aper_err_lo = 135.391)
(photflux_aper_err_up = 160.219)
(photflux_aper_conf = 0.680254)
(photflux_aper_status = 0)
(photflux_aper_signif = 11.8158)
(photflux_aper_mode = 147.743)
    (flux_aper = 147.743)
(flux_aper_err_lo = 135.391)
(flux_aper_err_up = 160.219)
(flux_aper_conf = 0.680254)
(flux_aper_status = 0)
(flux_aper_signif = 11.8158)
(flux_aper_mode = 147.743)
   (eflux_aper = 147.743)
(eflux_aper_err_lo = 135.391)
(eflux_aper_err_up = 160.219)
(eflux_aper_conf = 0.680254)
(eflux_aper_status = 0)
(eflux_aper_signif = 11.8158)
(eflux_aper_mode = 147.743)
           (_n = 141)
         (_A_s = 196.689)
       (_alpha = 0.953)
         (_T_s = 1)
         (_E_s = 1)
       (_eng_s = 1)
      (_flux_s = 1)
           (_m = 9)
         (_A_b = 4720.50)
        (_beta = 0.029)
         (_T_b = 1)
         (_E_b = 1)
       (_eng_b = 1)
      (_flux_b = 1)
         (mode = ql)
    
---


Parameters for /home/username/cxcds_param/aprates_netrate.par



Parameters for aprates_netrate.par

     (src_cnts = 147.743)
(src_cnts_err_lo = 135.391)
(src_cnts_err_up = 160.219)
(src_cnts_conf = 0.680254)
(src_cnts_status = 0)
(src_cnts_signif = 11.8158)
(src_cnts_mode = 147.743)
     (src_rate = 0.0247163)
(src_rate_err_lo = 0.02265)
(src_rate_err_up = 0.0268035)
(src_rate_conf = 0.680254)
(src_rate_status = 0)
(src_rate_signif = 11.8158)
(src_rate_mode = 0.0247155)
(photflux_aper = 147.743)
(photflux_aper_err_lo = 135.391)
(photflux_aper_err_up = 160.219)
(photflux_aper_conf = 0.680254)
(photflux_aper_status = 0)
(photflux_aper_signif = 11.8158)
(photflux_aper_mode = 147.743)
    (flux_aper = 147.743)
(flux_aper_err_lo = 135.391)
(flux_aper_err_up = 160.219)
(flux_aper_conf = 0.680254)
(flux_aper_status = 0)
(flux_aper_signif = 11.8158)
(flux_aper_mode = 147.743)
   (eflux_aper = 147.743)
(eflux_aper_err_lo = 135.391)
(eflux_aper_err_up = 160.219)
(eflux_aper_conf = 0.680254)
(eflux_aper_status = 0)
(eflux_aper_signif = 11.8158)
(eflux_aper_mode = 147.743)
           (_n = 141)
         (_A_s = 196.689)
       (_alpha = 0.953)
         (_T_s = 5977.74)
         (_E_s = 1)
       (_eng_s = 1)
      (_flux_s = 1)
           (_m = 9)
         (_A_b = 4720.50)
        (_beta = 0.029)
         (_T_b = 5977.74)
         (_E_b = 1)
       (_eng_b = 1)
      (_flux_b = 1)
         (mode = ql)
    
---


Parameters for /home/username/cxcds_param/aprates_netflux.par



Parameters for aprates_netflux.par

     (src_cnts = 147.743)
(src_cnts_err_lo = 135.391)
(src_cnts_err_up = 160.219)
(src_cnts_conf = 0.680254)
(src_cnts_status = 0)
(src_cnts_signif = 11.8158)
(src_cnts_mode = 147.743)
     (src_rate = 0.0247155)
(src_rate_err_lo = 0.0226492)
(src_rate_err_up = 0.0268026)
(src_rate_conf = 0.680254)
(src_rate_status = 0)
(src_rate_signif = 11.8158)
(src_rate_mode = 0.0247155)
(photflux_aper = 6.40e-05)
(photflux_aper_err_lo = 5.86e-05)
(photflux_aper_err_up = 6.94e-05)
(photflux_aper_conf = 0.680254)
(photflux_aper_status = 0)
(photflux_aper_signif = 11.8117)
(photflux_aper_mode = 6.39831e-05)
    (flux_aper = 6.39831e-05)
(flux_aper_err_lo = 5.86321e-05)
(flux_aper_err_up = 6.93881e-05)
(flux_aper_conf = 0.680254)
(flux_aper_status = 0)
(flux_aper_signif = 11.8117)
(flux_aper_mode = 6.39831e-05)
   (eflux_aper = 147.743)
(eflux_aper_err_lo = 135.391)
(eflux_aper_err_up = 160.219)
(eflux_aper_conf = 0.680254)
(eflux_aper_status = 0)
(eflux_aper_signif = 11.8158)
(eflux_aper_mode = 147.743)
           (_n = 141)
         (_A_s = 196.689)
       (_alpha = 0.953)
         (_T_s = 5977.74)
         (_E_s = 2.30834e+06)
       (_eng_s = 1)
      (_flux_s = 1)
           (_m = 9)
         (_A_b = 4720.50)
        (_beta = 0.029)
         (_T_b = 5977.74)
         (_E_b = 2.05898e+06)
       (_eng_b = 1)
      (_flux_b = 1)
         (mode = ql)
    
---


Parameters for /home/username/cxcds_param/aprates_flux.par



Parameters for aprates_flux.par

     (src_cnts = 147.743)
(src_cnts_err_lo = 135.391)
(src_cnts_err_up = 160.219)
(src_cnts_conf = 0.680254)
(src_cnts_status = 0)
(src_cnts_signif = 11.8158)
(src_cnts_mode = 147.743)
     (src_rate = 0.0247155)
(src_rate_err_lo = 0.0226492)
(src_rate_err_up = 0.0268026)
(src_rate_conf = 0.680254)
(src_rate_status = 0)
(src_rate_signif = 11.8158)
(src_rate_mode = 0.0247155)
(photflux_aper = 6.39831e-05)
(photflux_aper_err_lo = 5.86321e-05)
(photflux_aper_err_up = 6.93881e-05)
(photflux_aper_conf = 0.680254)
(photflux_aper_status = 0)
(photflux_aper_signif = 11.8117)
(photflux_aper_mode = 6.39831e-05)
    (flux_aper = 1.63e-13)
(flux_aper_err_lo = 1.50e-13)
(flux_aper_err_up = 1.77e-13)
(flux_aper_conf = 0.680254)
(flux_aper_status = 0)
(flux_aper_signif = 11.7864)
(flux_aper_mode = 1.63466e-13)
   (eflux_aper = 147.743)
(eflux_aper_err_lo = 135.391)
(eflux_aper_err_up = 160.219)
(eflux_aper_conf = 0.680254)
(eflux_aper_status = 0)
(eflux_aper_signif = 11.8158)
(eflux_aper_mode = 147.743)
           (_n = 141)
         (_A_s = 196.689)
       (_alpha = 0.953)
         (_T_s = 5977.74)
         (_E_s = 2.30834e+06)
       (_eng_s = 2.56e-09)
      (_flux_s = 1)
           (_m = 9)
         (_A_b = 4720.50)
        (_beta = 0.029)
         (_T_b = 5977.74)
         (_E_b = 2.05898e+06)
       (_eng_b = 4.27e-09)
      (_flux_b = 1)
         (mode = ql)
    
---


Parameters for /home/username/cxcds_param/aprates_eflux.par



Parameters for aprates_eflux.par

     (src_cnts = 147.743)
(src_cnts_err_lo = 135.391)
(src_cnts_err_up = 160.219)
(src_cnts_conf = 0.680254)
(src_cnts_status = 0)
(src_cnts_signif = 11.8158)
(src_cnts_mode = 147.743)
     (src_rate = 0.0247155)
(src_rate_err_lo = 0.0226492)
(src_rate_err_up = 0.0268026)
(src_rate_conf = 0.680254)
(src_rate_status = 0)
(src_rate_signif = 11.8158)
(src_rate_mode = 0.0247155)
(photflux_aper = 6.39831e-05)
(photflux_aper_err_lo = 5.86321e-05)
(photflux_aper_err_up = 6.93881e-05)
(photflux_aper_conf = 0.680254)
(photflux_aper_status = 0)
(photflux_aper_signif = 11.8117)
(photflux_aper_mode = 6.39831e-05)
    (flux_aper = 6.39831e-05)
(flux_aper_err_lo = 5.86321e-05)
(flux_aper_err_up = 6.93881e-05)
(flux_aper_conf = 0.680254)
(flux_aper_status = 0)
(flux_aper_signif = 11.8117)
(flux_aper_mode = 6.39831e-05)
   (eflux_aper = 1.44448e-13)
(eflux_aper_err_lo = 1.32329e-13)
(eflux_aper_err_up = 1.56691e-13)
(eflux_aper_conf = 0.680254)
(eflux_aper_status = 0)
(eflux_aper_signif = 11.7733)
(eflux_aper_mode = 1.44448e-13)
           (_n = 141)
         (_A_s = 196.689)
       (_alpha = 0.953)
         (_T_s = 5977.74)
         (_E_s = 2.30834e+06)
       (_eng_s = 1)
      (_flux_s = 9.81e-16)
           (_m = 9)
         (_A_b = 4720.50)
        (_beta = 0.029)
         (_T_b = 5977.74)
         (_E_b = 2.05898e+06)
       (_eng_b = 1)
      (_flux_b = 2.23e-15)
         (mode = ql)
    
---
---