New Observation-Specific HRC Bad Pixel File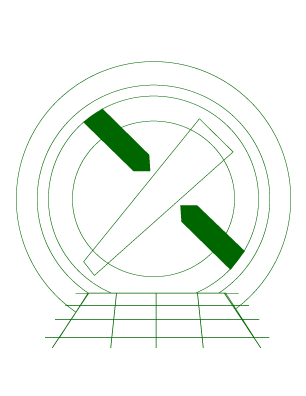 CIAO 4.2 Science Threads
---
Last Update: 5 Feb 2010 - reviewed for CIAO 4.2: no changes
Synopsis:
The HRC-I and HRC-S bad pixel files are used both to define the valid coordinate regions in the detectors and to identify bad (hot) pixels. Observation-specific bad pixel files are generated from calibration data products by applying the appropriate degap corrections and selecting all time-dependent bad pixel regions in the calibration data that are appropriate to the time of the observation.
Purpose:
To generate a new observation-specific HRC bad pixel file.
Read this thread if:
you are working with an HRC dataset and you have either re-run hrc_process_events using degap corrections different from those used in standard processing, or you have identified new bad pixel regions that are not contained in the CALDB bad pixel list.
---
---
---


Parameters for /home/username/cxcds_param/hrc_build_badpix.par


        infile = CALDB            Input (ARD) bad pixel file
       outfile = hrcf06476_bpix1_caldb.fits Output (Level 1) bad pixel file
       obsfile = hrcf06476_obs.par Input observation parameter file
     degapfile = CALDB            Input degap file (NONE | none | COEFF | <filename>)
         (cfu1 = 1.0)             u axis 1st order cor. factor
         (cfu2 = 0.0)             u axis 2nd order cor. factor
         (cfv1 = 1.0)             v axis 1st order cor. factor
         (cfv2 = 0.0)             v axis 2nd order cor. factor
      (logfile = STDOUT)          Output debug log file (<filename>, NONE, STDOUT)
      (clobber = no)              Overwrite output file(s) if already exists?
      (verbose = 0)               Debug level (0-5)
         (mode = ql)              
    
---


Parameters for /home/username/cxcds_param/hrc_build_badpix.par


        infile = CALDB            Input (ARD) bad pixel file
       outfile = hrcf06476_bpix1_match.fits Output (Level 1) bad pixel file
       obsfile = hrcf06476_obs.par Input observation parameter file
     degapfile = /soft/ciao/CALDB/data/chandra/hrc/gaplookup/hrciD1999-07-22gaplookupN0003.fits Input degap file (NONE | none | COEFF | <filename>)
         (cfu1 = 1.0)             u axis 1st order cor. factor
         (cfu2 = 0.0)             u axis 2nd order cor. factor
         (cfv1 = 1.0)             v axis 1st order cor. factor
         (cfv2 = 0.0)             v axis 2nd order cor. factor
      (logfile = STDOUT)          Output debug log file (<filename>, NONE, STDOUT)
      (clobber = no)              Overwrite output file(s) if already exists?
      (verbose = 0)               Debug level (0-5)
         (mode = ql)              
    
---
| | |
| --- | --- |
| 01 Dec 2006 | new for CIAO 3.4 |
| 25 Jan 2008 | reviewed for CIAO 4.0: no changes |
| 06 Feb 2009 | updated for CIAO 4.1: degap file path updated for CALDB 4 |
| 05 Feb 2010 | reviewed for CIAO 4.2: no changes |
---