Correcting a Misplaced Zero-order Source Position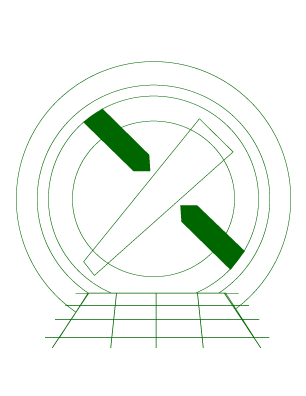 CIAO 4.2 Science Threads
---
Last Update: 22 Dec 2010 - reviewed for CIAO 4.2: no changes
Synopsis:
When tgdetect is run as a stand-alone tool with the zero order filter position set to the default value as in the "Obtain Grating Spectra" threads, the tool uses hard-wired numbers to locate the center of the box for searching zero-order sources; see Get Started for the values. If the source is outside of the default search area, the tool will not locate it, regardless of how prominent it is.
Purpose:
To run tgdetect with a specific zero order filter position to identify the correct zero-order source position.
Read this thread if:
you are working with ACIS or HRC grating data and think that the zero-order source may be misidentified, as shown in the Display the Source List section.
Related Links:
---
---
---
This thread is now complete. You can continue with the grating analysis from the "Get region mask (tg_create_mask)" step of the HETG/ACIS-S, LETG/ACIS-S, LETG/HRC-S, or LETG/HRC-I grating spectra thread.
---


Parameters for /home/username/cxcds_param/tgdetect.par


##
## TGDETECT -- Create filter; run celldetect; narrow down detected
##             'zero order' source list; set source id's; match 
##             sources to previous OBI source list.
##
## Note: if either "infile" or "OBI_srclist_file" are @lists, only
## the first item on the list is read in;  this tool only works on
## one set of input files;  if more than one file is listed, 
## everything but the first are ignored.
##
        infile = acisf01703_000N003_evt1.fits   Input L1 event file (root_evt1.fits or .lis)
OBI_srclist_file = NONE             Input source position(s) file from previous OBI or NONE
       outfile = acis_src1a.fits  Output source position(s) file name (root_src1a.fits)
#
#   output file naming
#
     (temproot = )                Path and root file name to be given to temporary files
     (keeptemp = no)              Keep temporary files?
     (keepexit = no)              Keep exit status file?
#
#
#
     (zo_pos_x = default)         Center GZO filter sky X position (default=pixel(ra_nom))
     (zo_pos_y = default)         Center GZO filter sky Y position (default=pixel(dec_nom))
 (zo_sz_filt_x = default)         Size of GZO filter in X pixels (ACIS=400; HRC=1800)
 (zo_sz_filt_y = default)         Size of GZO filter in Y pixels (ACIS=400; HRC=1800)
   (snr_thresh = 40)              SNR threshold to select the detected sources
# 
#   celldetect parameters
#
       (expstk = none)            list of exposure map files
       (thresh = )celldetect.thresh -> 3) celldetect source threshold
     (ellsigma = 3.0)             Size of output source ellipses (in sigmas)
     (expratio = 0)               cutoff ratio for source cell exposure variation
    (findpeaks = yes)             find local peaks for celldetect
(celldetect_log = )celldetect.log -> no) make a celldetect log file?
     (psftable = )celldetect.psftable -> /soft/ciao/data/psfsize_20000830.fits) table of PSF size data, for celldetect
    (fixedcell = 15)              celldetect fixed cell size to use
(fixedcell_cc_mode = 15)              celldetect fixed cell size to use for CC mode ACIS data
      (bkgfile = none)            background file, for celldetect
     (bkgvalue = )celldetect.bkgvalue -> 0) background count/pixel, for celldetect
  (bkgerrvalue = )celldetect.bkgerrvalue -> 0) background error, for celldetect
        (eband = )celldetect.eband -> 1.4967) energy band, for celldetect
      (eenergy = )celldetect.eenergy -> 0.8) encircled energy of PSF, for celldetect
      (snrfile = none)            celldetect snr output file (for convolution only)
     (convolve = )celldetect.convolve -> no) use convolutions for celldetect
      (xoffset = INDEF)           celldetect offset of x axis from optical axis
      (yoffset = INDEF)           celldetect offset of y axis from optical axis
     (cellfile = none)            output cell size image file
     (centroid = yes)             compute source centroids in celldetection?
#
#   tgidselectsrc parameters
#
(snr_ratio_limit = )tgidselectsrc.snr_ratio_limit -> 1) Value of SNR ratio to use as lower limit
     (setsrcid = )tgidselectsrc.setsrcid -> yes) Set src ids in output file?
#
#   tgmatchsrc parameters
#
(max_separation = )tgmatchsrc.max_separation -> 3) Maximum allowed separation (arcsec) for sources to match
#
#
      (clobber = yes)             OK to overwrite existing output file(s)?
      (verbose = 0)               Verbosity level (0 = no display)
         (mode = ql)
    
---


Parameters for /home/username/cxcds_param/tgdetect.par


##
## TGDETECT -- Create filter; run celldetect; narrow down detected
##             'zero order' source list; set source id's; match 
##             sources to previous OBI source list.
##
## Note: if either "infile" or "OBI_srclist_file" are @lists, only
## the first item on the list is read in;  this tool only works on
## one set of input files;  if more than one file is listed, 
## everything but the first are ignored.
##
        infile = acisf01703_000N003_evt1.fits   Input L1 event file (root_evt1.fits or .lis)
OBI_srclist_file = NONE             Input source position(s) file from previous OBI or NONE
       outfile = acis_target_src1a.fits Output source position(s) file name (root_src1a.fits)
#
#   output file naming
#
     (temproot = )                Path and root file name to be given to temporary files
     (keeptemp = no)              Keep temporary files?
     (keepexit = no)              Keep exit status file?
#
#
#
     (zo_pos_x = 4121.45)         Center GZO filter sky X position (default=pixel(ra_nom))
     (zo_pos_y = 3876.57)         Center GZO filter sky Y position (default=pixel(dec_nom))
 (zo_sz_filt_x = default)         Size of GZO filter in X pixels (ACIS=400; HRC=1800)
 (zo_sz_filt_y = default)         Size of GZO filter in Y pixels (ACIS=400; HRC=1800)
   (snr_thresh = 40)              SNR threshold to select the detected sources
# 
#   celldetect parameters
#
       (expstk = none)            list of exposure map files
       (thresh = )celldetect.thresh -> 3) celldetect source threshold
     (ellsigma = 3.0)             Size of output source ellipses (in sigmas)
     (expratio = 0)               cutoff ratio for source cell exposure variation
    (findpeaks = yes)             find local peaks for celldetect
(celldetect_log = )celldetect.log -> no) make a celldetect log file?
     (psftable = )celldetect.psftable -> /soft/ciao/data/psfsize_20000830.fits) table of PSF size data, for celldetect
    (fixedcell = 15)              celldetect fixed cell size to use
(fixedcell_cc_mode = 15)              celldetect fixed cell size to use for CC mode ACIS data
      (bkgfile = none)            background file, for celldetect
     (bkgvalue = )celldetect.bkgvalue -> 0) background count/pixel, for celldetect
  (bkgerrvalue = )celldetect.bkgerrvalue -> 0) background error, for celldetect
        (eband = )celldetect.eband -> 1.4967) energy band, for celldetect
      (eenergy = )celldetect.eenergy -> 0.8) encircled energy of PSF, for celldetect
      (snrfile = none)            celldetect snr output file (for convolution only)
     (convolve = )celldetect.convolve -> no) use convolutions for celldetect
      (xoffset = INDEF)           celldetect offset of x axis from optical axis
      (yoffset = INDEF)           celldetect offset of y axis from optical axis
     (cellfile = none)            output cell size image file
     (centroid = yes)             compute source centroids in celldetection?
#
#   tgidselectsrc parameters
#
(snr_ratio_limit = )tgidselectsrc.snr_ratio_limit -> 1) Value of SNR ratio to use as lower limit
     (setsrcid = )tgidselectsrc.setsrcid -> yes) Set src ids in output file?
#
#   tgmatchsrc parameters
#
(max_separation = )tgmatchsrc.max_separation -> 3) Maximum allowed separation (arcsec) for sources to match
#
#
      (clobber = yes)             OK to overwrite existing output file(s)?
      (verbose = 0)               Verbosity level (0 = no display)
         (mode = ql)
    
---
| | |
| --- | --- |
| 16 Dec 2004 | updated for CIAO 3.2: new parameters for temporary and diagnostic files; include dmcoords asolfile parameter |
| 05 Dec 2005 | updated for CIAO 3.3: parameter file change (kernel parameter removed from tgdetect) |
| 29 Mar 2006 | renamed thread from "Correct Zero-order Source Position" |
| 01 Dec 2006 | updated for CIAO 3.4: change to wording of tgdetect/dmcopy warning |
| 11 Jan 2008 | updated for CIAO 4.0: ds9 now automatically looks for the "[SRCLIST]" extension in the region file, so it doesn't have to be specified; filenames and screen output updated for reprocessed data (version N003 files) |
| 12 Feb 2009 | updated for CIAO 4.1: acis_src1a.fits has four source regions; images are inline |
| 16 Jun 2009 | added About the Chandra Grating Data Archive and Catalog section |
| 22 Dec 2010 | reviewed for CIAO 4.2: no changes |
---