Computing the Intensity Upper Limit for an Unresolved Source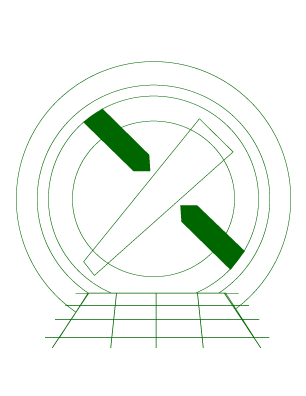 CIAO 4.2 Science Threads
---
Last Update: 27 Jan 2010 - updated for CIAO 4.2: use N004 version of data products from the Archive; screen output updated
Synopsis:
The tool aprates, computes values and bounds for source intensity quantities (net counts, source rate, photon flux, energy flux) using counts and exposure data obtained in source and background apertures, as shown in the Compute Net Counts, Rate, or Flux for Point Sources thread.
This thread uses aprates to determine how x-ray bright a source could be at the given location in the observation. The intensity upper limit is calculated in flux units in this thread.
aprates uses Bayesian statistics to compute the background-marginalized, posterior probability distribution for source intensity, assuming non-informative prior distributions for background and source intensity (for details on the algorithm, see the Background Marginalized X-ray Source Intensity memo). The posterior distribution can be used to determine intensity value and confidence bounds or intensity upper limit.
Read this thread if:
you want to calculate the intensity upper limit for a source within a specified aperture.
---
---
---


Parameters for /home/username/cxcds_param/ulimit.par


src_cnts,r,h,0.0,,,
src_cnts_err_lo,r,h,INDEF,,,
src_cnts_err_up,r,h,4.04921,,,
src_cnts_conf,r,h,0.682686,,,
src_cnts_status,i,h,0,,,
src_cnts_signif,r,h,0,,,
src_cnts_mode,r,h,0,,,
src_rate,r,h,0.0,,,
src_rate_err_lo,r,h,INDEF,,,
src_rate_err_up,r,h,5.60511e-05,,,
src_rate_conf,r,h,0.682686,,,
src_rate_status,i,h,0,,,
src_rate_signif,r,h,0,,,
src_rate_mode,r,h,0,,,
photflux_aper,r,h,0.0,,,
photflux_aper_err_lo,r,h,INDEF,,,
photflux_aper_err_up,r,h,4.04921,,,
photflux_aper_conf,r,h,0.682686,,,
photflux_aper_status,i,h,0,,,
photflux_aper_signif,r,h,0,,,
photflux_aper_mode,r,h,0,,,
flux_aper,r,h,0.0,,,
flux_aper_err_lo,r,h,INDEF,,,
flux_aper_err_up,r,h,4.04921,,,
flux_aper_conf,r,h,0.682686,,,
flux_aper_status,i,h,0,,,
flux_aper_signif,r,h,0,,,
flux_aper_mode,r,h,0,,,
eflux_aper,r,h,0.0,,,
eflux_aper_err_lo,r,h,INDEF,,,
eflux_aper_err_up,r,h,4.04921,,,
eflux_aper_conf,r,h,0.682686,,,
eflux_aper_status,i,h,0,,,
eflux_aper_signif,r,h,0,,,
eflux_aper_mode,r,h,0,,,
# ---- Inputs below ----
_n,i,h,14,,,
_A_s,r,h,78.5,,,
_alpha,r,h,0.99,,,
_T_s,r,h,72244.7,,,
_E_s,r,h,1,,,
_eng_s,r,h,1,,,
_flux_s,r,h,1,,,
_m,i,h,130,,,
_A_b,r,h,628.3,,,
_beta,r,h,0.01,,,
_T_b,r,h,72241.5,,,
_E_b,r,h,1,,,
_eng_b,r,h,1,,,
_flux_b,r,h,1,,,
    
---
| | |
| --- | --- |
| 24 Jul 2009 | New for CIAO 4.1: title updated to "Computing the Intensity Upper Limit for an Unresolved Source" |
| 27 Jan 2010 | updated for CIAO 4.2: use N004 version of data products from the Archive; screen output updated |
---