ACIS-S Grating RMFs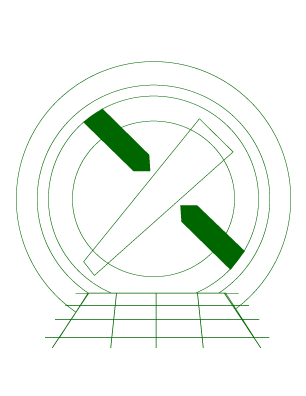 CIAO 4.2 Science Threads
---
Last Update: 14 Jan 2009 - updated for CIAO 4.2: ObsID 459 file versions
Synopsis:
mkgrmf generates a grating RMF (gRMF) appropriate for spectral analysis of grating observations. The tool can be used either to create a standard gRMF with the most up-to-date calibration or to calculate a gRMF using non-standard grids.
Purpose:
To create observation-specific gRMFs for on-axis sources
Read this thread if:
you are working with ACIS-S grating data and would like to create a grating RMF file. Get Started: About the calibration files discusses the available calibration.
Related Links:
---
---
---
This thread is now complete. You may procede to the Grating ARF thread appropriate for your observation: HETG/ACIS-S or LETG/ACIS-S.
---


Parameters for /home/username/cxcds_param/mkgrmf.par


       outfile = heg_p1.rmf       Output File Name
    wvgrid_arf = compute          Enter ARF side wavelength grid [angstroms]
   wvgrid_chan = compute          Enter channel-side wavelength grid [angstroms]
         order = 1                Enter Grating order
       obsfile = acisf00459N004_pha2.fits[SPECTRUM] Name of fits file with obs info
    regionfile = acisf00459N004_pha2.fits File containing extraction region
         srcid = 1                SrcID
#
     threshold = 1e-06            Enter RMF threshold
     detsubsys = ACIS-S3          Detector Name (e.g., ACIS-S3)
   grating_arm = HEG              Enter Grating Arm
#
       verbose = 0                Verbosity
  (diagonalrmf = no)              Compute diagonal RMF?
#
#
(ardlibparfile = ardlib.par)      name of ardlib parameter file
      (geompar = geom)            Parameter file for Pixlib Geometry files
#
       (mirror = HRMA)            Mirror Name
      (clobber = no)              Overwrite existing files?
         (mode = ql)              Enter mode for parameter file.
    
---
| | |
| --- | --- |
| 20 Dec 2004 | updated for CIAO 3.2: canned gRMFs are no longer available in the CALDB, users must run this thread |
| 10 May 2005 | added more detail to thread overall |
| 05 Dec 2005 | reviewed for CIAO 3.3: no changes |
| 01 Dec 2006 | reviewed for CIAO 3.4: no changes |
| 01 May 2007 | updated for CALDB 3.4.0: new MEG LSFPARM files |
| 11 Jan 2008 | reviewed for CIAO 4.0: specify output block name ("[SPECTRUM]") for dmtype2split; removed outdated calibration updates |
| 12 Feb 2009 | updated for CIAO 4.1: paths to calibration files updated for CALDB 4; input data must have a CTI_APP keyword |
| 24 Feb 2009 | added Off-axis Angles section |
| 04 Mar 2009 | srcid information added to the Run mkgrmf section |
| 16 Jun 2009 | added About the Chandra Grating Data Archive and Catalog section |
| 14 Jan 2009 | updated for CIAO 4.2: ObsID 459 file versions |
---