Weighting ARFs and RMFs: multiple sources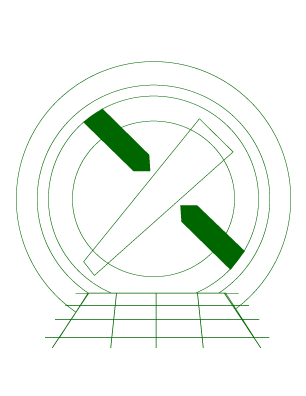 CIAO 4.2 Science Threads
---
Last Update: 9 Mar 2010 - The ACIS detector is calibrated over the range 0.224004 - 12 keV; choosing values outside this range may result in errors from mkwarf.
Synopsis:
If you want to extract the spectrum of a large region, or combine data from multiple regions (either from the same or different observations), then you may need to use a weighted ARF and RMF for the spectral analysis. This is because the RMF and ARF vary with detector location; the RMF is defined as constant across FEF tiles, whose size depends on both the position on and focal-plane temperature of the ACIS chip, while the ARF varies with position in the detector plane.
Purpose:
To create a spectrum that represents a number of point sources present in the field, and a corresponding ARF and RMF that can be used to analyze it.
Read this thread if:
you are working with an ACIS observation and need to create weighted response files.
CALDB v4.2.0 (15 Dec 2009):

The ACIS QE contamination model has been upgraded to vN0005. This version of the file contains separate components for the correction on ACIS-S and ACIS-I. The new calibration file is used by default when creating ARFs and instrument maps in CIAO 4.2.

The changes in the vN0005 file will primarily affect low-energy absorption components between C-K edge (0.283 keV) and 1.2 keV. In general, hard spectra will not be affected much by the calibration change.

Users should read the ACIS QE Contamination Model vN0005 section of the CIAO 4.2 release notes for information on how this change will affect the response file.
Related Links:
---
---
---


Parameters for /home/username/cxcds_param/dmextract.par


#--------------------------------------------------------------------
#
# DMEXTRACT -- extract columns or counts from an event list
#
#--------------------------------------------------------------------
        infile = sources.evt2[bin pi] Input event file 
       outfile = sources.pi       Enter output file name
          (bkg = )                Background region file or fixed background (counts/pixel/s) subtraction
        (error = gaussian)        Method for error determination(poisson|gaussian|<variance file>)
     (bkgerror = gaussian)        Method for background error determination(poisson|gaussian|<variance file>)
      (bkgnorm = 1.0)             Background normalization
          (exp = )                Exposure map image file
       (bkgexp = )                Background exposure map image file
      (sys_err = 0)               Fixed systematic error value for SYS_ERR keyword
          (opt = pha1)            Output file type: pha1 
     (defaults = ${ASCDS_CALIB}/cxo.mdb -> /soft/ciao-4.0/data/cxo.mdb) Instrument defaults file
         (wmap = [bin det=8])     WMAP filter/binning (e.g. det=8 or default)
      (clobber = no)              OK to overwrite existing output file(s)?
      (verbose = 0)               Verbosity level
         (mode = ql)              


---


Parameters for /home/username/cxcds_param/mkwarf.par


        infile = sources.pi[WMAP] Input detector WMAP
       outfile = sources.warf     Output weighted ARF file
    weightfile = sources.wgt      Output FEF weights
  spectrumfile =                  Input Spectral weighting file (<filename>|NONE)
     egridspec = 0.23:11:0.01     Output energy grid [kev]
       pbkfile = acisf131209384N002_pbk0.fits Parameter block file
    (threshold = 0)               Percent threshold cut for FEF regions
      (feffile = CALDB)           FEF file
      (mskfile = )                Mask file
     (asolfile = )                Stack of aspect solution files
       (mirror = HRMA)            ARDLIB Mirror specification
 (detsubsysmod = )                Detector sybsystem modifier
       (dafile = CALDB)           Dead area file
    (ardlibpar = ardlib)          Parameter file for ARDLIB files
      (geompar = geom)            Parameter file for Pixlib Geometry files
      (clobber = no)              Clobber existing outputs
      (verbose = 0)               Tool chatter level
         (mode = ql)              


---


Parameters for /home/username/cxcds_param/mkrmf.par


        infile = CALDB            name of FEF input file
       outfile = sources.wrmf     name of RMF output file
         axis1 = energy=0:1       axis-1(name=lo:hi:btype)
         axis2 = pi=1:1024:1      axis-2(name=lo:hi:btype)
      (logfile = STDOUT)          name of log file
      (weights = sources.wgt)     name of weight file
       (thresh = 1e-5)            low threshold of energy cut-off probability
       (outfmt = legacy)          RMF output format (legacy|cxc)
      (clobber = no)              overwrite existing output file (yes|no)?
      (verbose = 0)               verbosity level (0 = no display)
        (axis3 = none)            axis-3(name=lo:hi:btype)
        (axis4 = none)            axis-4(name=lo:hi:btype)
        (axis5 = none)            axis-5(name=lo:hi:btype)
         (mode = ql)              



---
| | |
| --- | --- |
| 04 Jan 2005 | updated for CIAO 3.2: added information about mkacisrmf (see Creating the RMF: mkrmf vs mkacisrmf section) |
| 20 Dec 2005 | updated for CIAO 3.3: default value of dmextract error and bkgerror parameters is "gaussian"; updated screen output accordingly |
| 01 Feb 2006 | added information about specextract thread |
| 01 Dec 2006 | updated for CIAO 3.4: CIAO and ChIPS versions; set mkrmf verbosity > 0 for screen output; parameter file updates for mkwarf |
| 02 Feb 2007 | updated for CALDB 3.3.0.1 patch |
| 06 Mar 2007 | added ACIS dead area correction section and example of setting the pbkfile and dafile parameters |
| 24 Jan 2008 | updated for CIAO 4.0: rewritten with ObsID 3207; turn off the ACIS dead area correction in the mkwarf step (application of the dead area correction is on by default); show_wgt.sl not included in this release; links point to Sherpa Beta website ; removed outdated calibration updates |
| 04 Feb 2009 | updated for CIAO 4.1: "ARDLIB warning ... Assuming the first "interesting" extension." no longer printed; updated path for CALDB 4; input data must have a CTI_APP keyword |
| 19 Feb 2009 | added a section on Fitting |
| 12 Jan 2010 | updated for CIAO 4.2: calibration update - the ACIS QE contamination model has been upgraded to vN0005. |
| 09 Mar 2010 | The ACIS detector is calibrated over the range 0.224004 - 12 keV; choosing values outside this range may result in errors from mkwarf. |
---